The Australian Maritime Safety Authority rescued three sailors stranded in the Coral Sea on Wednesday after several shark attacks left their vessel significantly damaged.
AMSA said it responded to an emergency position-indicating radio beacon (EPIRB) from a 9-meter (30-foot) inflatable catamaran Tion at around 1:30 a.m. local time on Wednesday. Three men – one French and two Russians – between the ages of 28 and 64 were on board the vessel.
The men were sailing from the Pacific Island nation of Vanuatu to Cairns, Australia, and were more than 500 miles east of the Australian coast when rescuers reached them.
At the location, it was noted that both of the boat's hulls were damaged by "several shark attacks," AMSA reported.
SHARKS: 12 INTERESTING FACTS ABOUT THE MARINE FISH
At the request of AMSA, Panamanian-flagged vehicle carrier "Dugong Ace" arrived at the scene and successfully rescued the three men, who were expecting to arrive in Brisbane on Thursday. The Cairns-based Challenger Rescue Aircraft was also deployed to the location.
Joe Zeller, duty manager at the AMSA's Canberra response center, said all three men are "healthy and well," adding that they were "very happy to be rescued."
2 RECOVERING AFTER LABOR DAY SHARK BITES AT SAME FLORIDA BEACH, OFFICIALS SAY
Aerial photos taken by the agency showed major damage to the partially submerged catamaran, and the front section of one hull could be seen completely broken off.
Zeller said the GPS-encoded EPIRB allowed the sailors' location to be quickly pinpointed, so that a life-saving rescue could take place.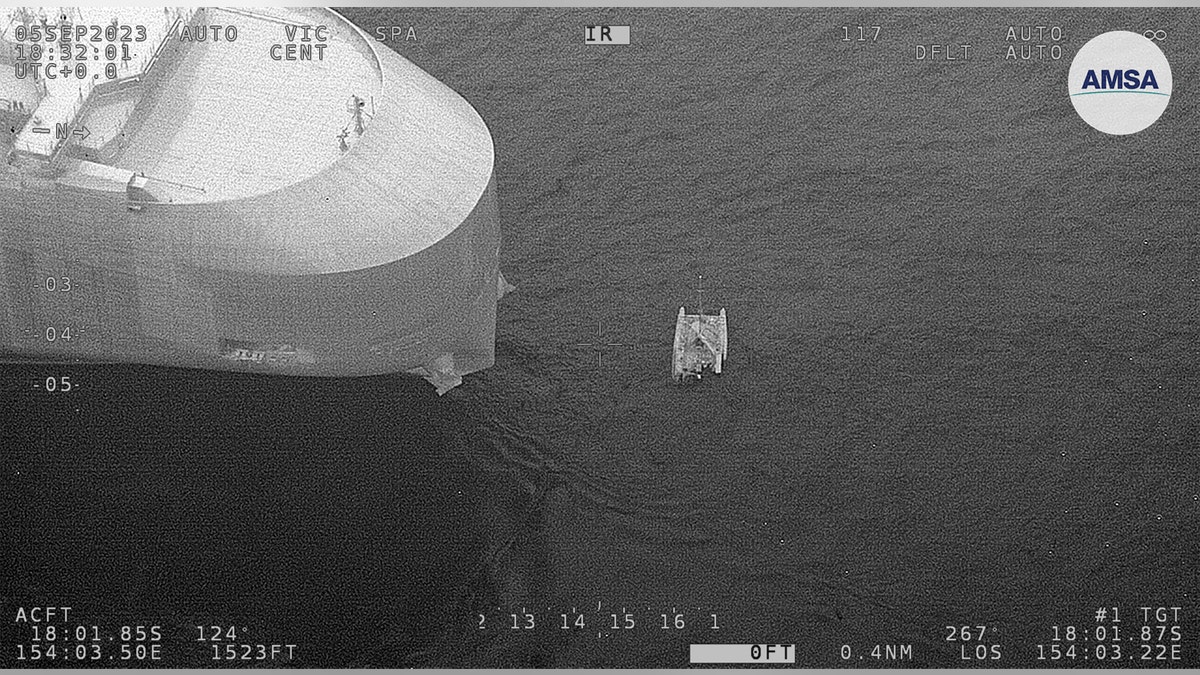 The AMSA described this incident as a "timely reminder" to never sail without a distress beacon. 
"GPS-equipped EPIRBs and personal locater beacons (PLBs) can save your life in an emergency. Make sure your distress beacon is properly registered with AMSA." the agency wrote.
The catamaran's EPIRB was registered in Russia, according to AMSA.
A trip from Vanuatu to Australia on the type of vessel the men were on would typically take around two to three weeks, Zeller added.