The Cincinnati Bengals issued a fiery response to the trade rumors surrounding wide receiver Tee Higgins.
Bengals director of player personnel Duke Tobin shut down any notion that the team would entertain any potential offers that involved shipping off Higgins to another team in the NFL.
"If they want a receiver, go find your own," an emphatic Tobin said at the league's scouting combine. "In my opinion, Tee Higgins is a good piece for the Cincinnati Bengals. The trade stuff is a little ridiculous right now."
The former second-round pick is set to enter the last year of his rookie contract, unless he and the Bengals can come to an agreement on a long-term contract extension.
Since Higgins was not selected in the first round, Cincinnati does not have the option of having him play an additional year under the fifth-year option.
AARON RODGERS WILL MAKE DECISION ON FUTURE 'SOONER RATHER THAN LATER' AFTER EMERGING FROM DARKNESS RETREAT
Complicating matters for the Bengals' front office are the looming decisions on contract extensions for star quarterback Joe Burrow and All-Pro wideout Ja'Marr Chase. Tobin noted that the team does have a rough estimate in mind on how much a potential extension for Burrow would cost.
"I have been pretty vocal about what Joe means to us, and my job is to facilitate his success as best I can with putting pieces around him, and his contract will get done when it gets done," Tobin said. "But it's a good problem to have. He's a vital part of what we're doing."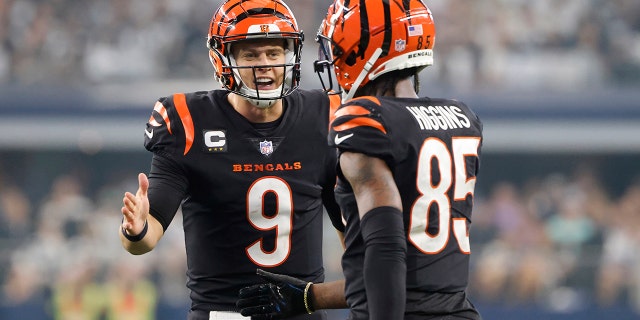 During his three seasons in the NFL, Higgins has racked up over 3,000 receiving yards. He has become a reliable target for Burrow and hauled in two touchdowns in last season's Super Bowl against the Rams.
In his most recent postseason performance, Higgins had a team-high 83 receiving yards and a touchdown in a 23-20 loss to the Kansas City Chiefs.
JALEN CARTER, POTENTIAL NO. 1 NFL DRAFT PICK, IMPLICATED IN FATAL CRASH INVOLVING GEORGIA FOOTBALL MEMBERS
Higgins' head coach, Zac Taylor, also shrugged off the talks about the team possibly thinking about parting ways with the wide receiver this offseason.
"That's why whenever you see the rumors floating around there, it's nonsense," Taylor said inside the Indiana Convention Center. "At the end of the day, I do get to call the plays and it's fun having [playmakers] out there. You don't really want to give that up."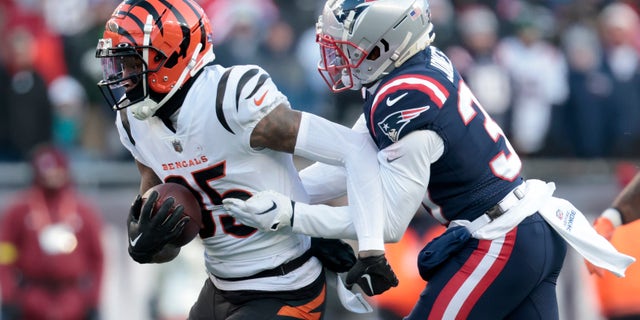 If Higgins played the 2023 season under his current deal, he would account for a $4 million salary cap hit.
Taylor and Tobin certainly would like to retain Higgins' services as long as possible, but the league's salary cap has proven to be tricky to manipulate as players seek big paydays in their second contracts.
The Bengals have reached the AFC Championship game in back-to-back seasons, advancing to the Super Bowl last year.