President Joe Biden went viral on Twitter after he made yet another call for Congress to enact an assault weapons ban across the United States. 
"It's time for Congress to ban assault weapons," Biden tweeted Tuesday. 
"It's time for your nap," WalkUp Foundation founder Ryan Petty wrote back. Petty lost his daughter, Alaina Petty, in the Parkland, Florida, shooting and has previously told Fox News Digital that more gun control would not make students safer in a February interview.
"Criminals don't obey gun laws," Petty said. 
BIDEN ANNOUNCES EXECUTIVE ORDER TO EXPAND GUN BACKGROUND CHECKS, CALLS ON LAWMAKERS TO GO FARTHER
"Congress took an oath to the Constitution (as did you). So no, they should not violate the Second Amendment, nor their oath," defense attorney Marina Medvin told Biden. 
"And put a Ban on them going to Ukraine!" NFL linebacker Boomer Mays said. 
The Pentagon announced another $2 billion aid package to Ukraine in February. The armaments included 155 mm artillery ammunition, mine clearing equipment, rocket system munitions, electronic warfare detection equipment, High Mobility Artillery Rocket Systems ammunition, and more.
"SHALL NOT BE INFRINGED," former Republican Congressional candidate Jack Lombardi II wrote, quoting directly from the Second Amendment. 
"Almost 50 years in office and nothing. But now, all of a sudden, you want our guns? You and your administration are 'no good' for America. God only knows what you and your gang of power-hungry fools are really up to. We have seen enough, Joe," Lombardi continued.
WOMEN GUN OWNERS SLAM BIDEN'S SOTU DEMAND TO 'BAN ASSAULT WEAPONS NOW': 'JOE, COME AND TAKE IT'
While most posters disagreed with Biden, some spoke out in defense of the President. 
"Do it," poet Arun Budhathoki responded.
"Yes. Long past time," another user wrote. 
This is not the first time that Biden has demanded that the U.S. ban assault weapons. In a speech earlier this month, Biden said that he would ban assault weapons and high-capacity magazines "come hell or high water." 
"I know it may make some of you uncomfortable, but that little state above me, Delaware is one of them, has the highest rate, one of the highest rates of gun ownership. But guess what? We're going to ban assault weapons again come hell or high water and high-capacity magazines. When we did it last time to reduce mass deaths," Biden said.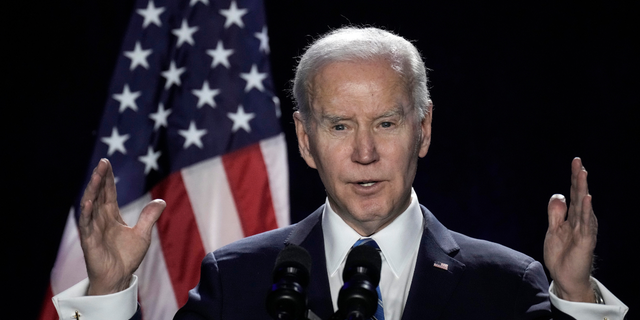 Biden also said that America should ban assault weapons during his State of the Union Address, in rhetoric that took heated criticism from female gun owners. 
"Dear Joe Biden. We aren't terrorists. We aren't the enemy. We're the good guys," a group of women said in a video published by the NRA in February. 
Fox News' Adam Sabes and Timothy H.J. Nerozzi contributed to this report.