During his first trip to East Palestine, Ohio to survey the site of the catastrophic train derailment, U.S. Department of Transportation Secretary Pete Buttigieg ignored reporters' questions while his press secretary unsuccessfully attempted to handle the media.
The press secretary, Kerry Arndt, proceeded to get flustered upon realizing that the journalists were going to record her answers on video, demanding several times for them to turn off the cameras or she would not answer any of their queries.
The tense exchange was captured on camera by Turning Point USA's Savannah Hernandez Thursday morning after Buttigieg arrived at the afflicted Ohio town.
EAST PALESTINE, OHIO, MAYOR 'FURIOUS' WITH BIDEN'S UKRAINE VISIT: 'THAT WAS THE  BIGGEST SLAP IN THE FACE'
In the video, Hernandez first approached the cabinet secretary and former South Bend, Indiana mayor as he was speaking with locals. She asked, "Mayor Pete, why did it take you an entire two-and-a-half weeks to actually get here to respond to East Palestine? Will you apologize to the residents of this city for the slow response?"
Buttigieg completely ignored Hernandez and walked into a nearby building as his press secretary called out to the reporter, saying, "I'm his press person, I can help you."
Though as soon as Hernandez's camera moved to film Arndt, the spokesperson declared, "I don't want to be on camera please," and held her hand up to block the image. 
While still filming, Hernandez proceeded to ask why it took Buttigieg "almost three weeks to get here," to which the press person replied, "I'm sorry, I don't wanna do this on camera."
A fellow journalist asked Arndt another question about Buttigieg's "personal time" that he claimed he was taking just before the trip, though the press secretary still refused to answer on video. She said, "I'm happy to talk to you guys off camera."
PETE BUTTIGIEG RIPPED FOR BEING 'NO SHOW' IN TOXIC OHIO TRAIN DERAILMENT: 'COMPLETE DISCONNECT'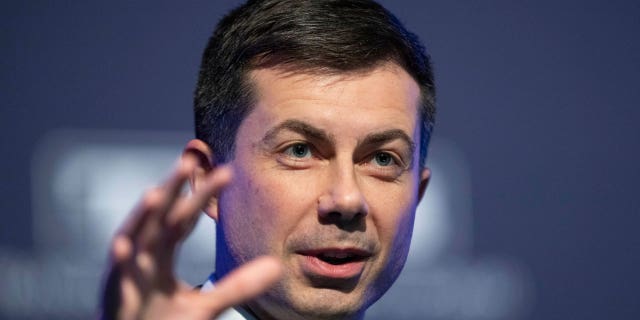 The tug of war continued as Hernandez tried another question and Arndt responded, "I'm happy to have a conversation with you, I do not wanna be on camera."
Hernandez shot back, "Well if you're the press secretary of the Secretary of the Department of Transportation, don't you think you should be able ask [sic] questions of the American public that you serve?"
More forcefully, the spokesperson said, "Absolutely, I would like to do it without the camera on." She added that the cameras are "a little bit aggressive. That's why." Hernandez then asked why that's aggressive, after which Arndt went silent, looking visibly frustrated. 
A man standing nearby broke up the exchange while responding to a local police officer asking what the commotion was. He claimed the spokesperson asked the journalists "several times" to "turn the cameras off and they will not do it." The officer then invited the spokesperson to step away, which she did after stonewalling on one more question.
Before Arndt walked off, Daily Caller reporter Alexa Schwerha asked her about Buttigieg's recent exchange with a fellow Daily Caller reporter Jennie Taer, which involved him taking the journalist's photo as she asked him questions in Washington, D.C.
Schwerha asked, "Can I ask what the secretary is going to do with the picture of Jennie Taer he took of her the other when she was asking a question in Washington, D.C.?" The spokesperson again denied her question.
"I am happy to answer your question, I would like you guys to not have your cameras on," she said, gesticulating dramatically. She then walked off frame to take further questions while not being filmed.