The man being charged with murdering a Chicago police officer on Wednesday was ordered to be held in jail with no bond.
Steven Montano, who is from Chicago, has been charged with first-degree murder, interfering with reporting domestic violence, and aggravated discharge of a firearm after allegedly killing Chicago Police Officer Andres Vasquez-Lasso. A Cook County judge denied bond to Montano, according to FOX Chicago.
Prosecutors said during the hearing that Montano began arguing with a 37-year-old woman he was dating about their relationship and living arrangement.
He allegedly attempted to strike his girlfriend who moved out of the way, then threatened to get his gun.
CHICAGO MAN WITH PRIOR ARREST CHARGED WITH POLICE OFFICER'S MURDER
Montano's girlfriend left the house and dialed 911 to report that he had a gun, according to prosecutors, who said that he followed her, took the phone from her hand and hung it up. He allegedly threw the phone after hanging up on 911. The two then went back into the home and continued their argument.
When police arrived, Montano was seen running towards the alley and holding what is believed to be a gun, prosecutors said.
Montano dropped a gun and magazine in front of a neighbors house before he picked it back up and put the magazine into the pistol, prosecutors said. The man asked neighbors if he could hide the gun in a garage that they were standing in, but they said no,
He then went into the garage and ran into the backyard of a residence that was connected.
Vasquez Lasso saw Montano running and got out of his car, beginning a foot chase. Montano was chased into a school yard and shouted multiple commands to stop running, prosecutors said, but Montano refused.
CHICAGO POLICE OFFICER KILLED, SUSPECT IN CRITICAL CONDITION AFTER SHOOTOUT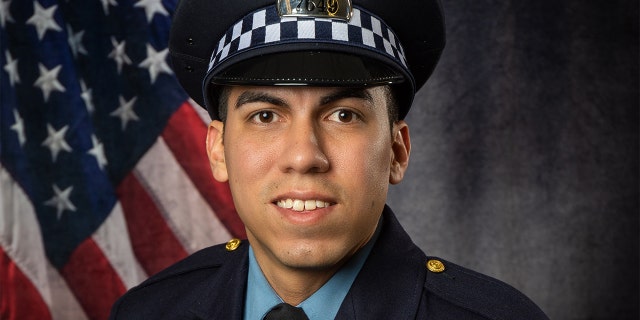 When Montano saw that Vasquez Lasso was only feet behind him, he racked his pistol and pointed at the officer, which led to the officer shooting back, officials said.
Vasquez-Lasso fired two shots and hit Montano in the area of his mouth. At the time of the shooting, there were multiple children on a nearby playground who were forced to take cover under a slide.
Officers began rendering aid to Vasquez-Lasso and was taken to a local hospital, where he was pronounced dead. Prosecutors said that Vasquez Lasso suffered a gunshot wound to the left temple, exiting through the back of his head, adding that he had other gunshot wounds throughout his body.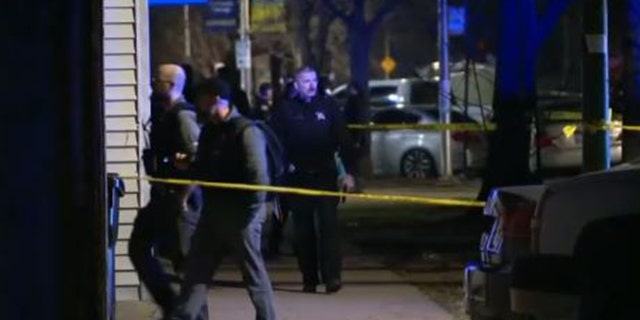 Montano has one prior arrest from last year when he allegedly running from a stolen car that was wanted in a shooting.
Fox News' Louis Casiano contributed to this report.