College campuses have erupted in shows of support with protests on Thursday and Friday for the Palestinian people following the Hamas terrorist attacks against Israel last week. 
At least 2,300 people have died since Hamas launched thousands of rockets on Israel over the weekend, pushing Israel to declare it was at war with the terrorist group and issue warnings to residents in Gaza ahead of operations in the territory to root out the group.
Former Hamas leader Khaled Mashal labeled Friday a global day of "rage" and protest, which resulted in protests in Arab nations throughout the region. Mashal stressed that the protests would send a "message of rage to Zionists and to America." 
The Israel Defense Forces (IDF) told Fox News' Trey Yingst that their infantry forces and tanks entered the Gaza Strip on Friday to conduct localized raids – but not yet begun its much-anticipated ground invasion of the region. 
The protests, not limited to campuses in the cases of some New York City colleges such as Baruch College on the city's Upper East Side, took aim at Israel for its treatment of the Palestinian people over the past decades and Israel's apparent response. 
FIRST CHARTERED FLIGHT LANDS IN GREECE WITH EVACUATED US CITIZENS FROM ISRAEL
The University of North Carolina at Chapel Hill's Students for Justice in Palestine called for a Day of Resistance on Thursday, advising students to show up wearing masks and face coverings as well as plain clothes. 
Nearly a dozen student groups had signed on as co-sponsors for the protest. The post online calling for the protests included the famous rallying cry "From the river to the sea," which can be understood as a call for the "dismantling of the Jewish state," and has long been used by anti-Israel groups like Hamas, according to the Anti-Defamation League.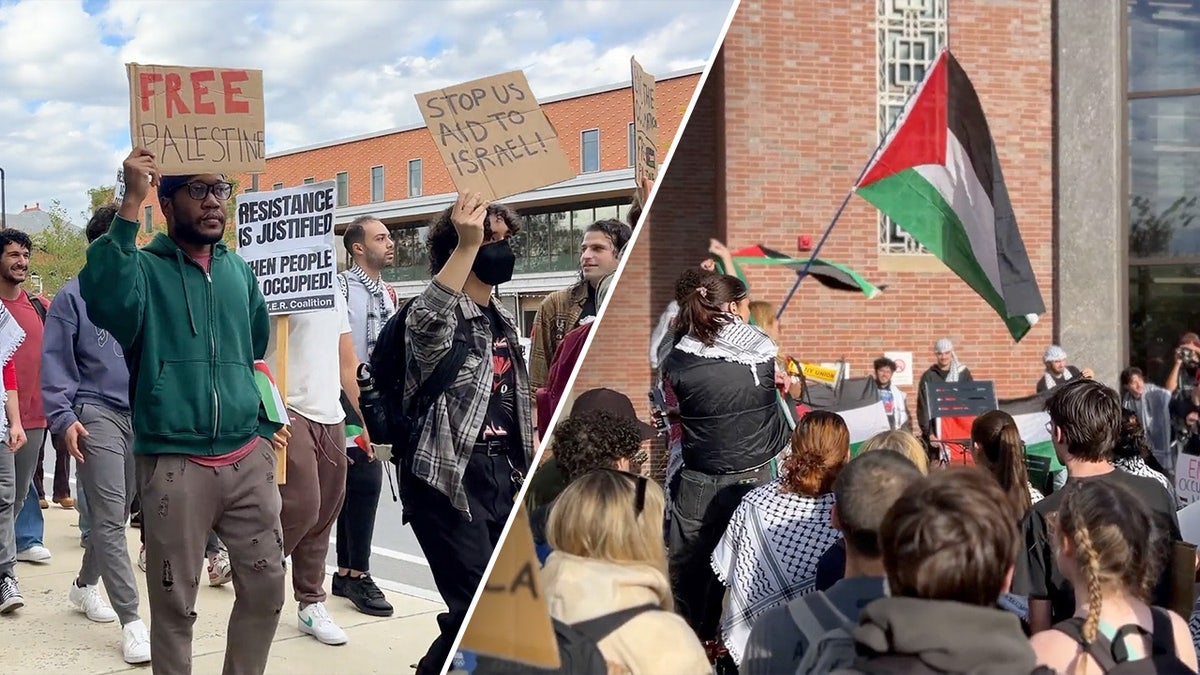 UMass Amherst students turned out to support justice in Palestine on Thursday, calling for students to meet outside the college's student union to stand in solidarity with Palestinians "breaking out of their open-air prison."
PRO-PALESTINIAN SCHOOL BOARD MEMBER OPPOSES HONORING HAMAS ATTACK VICTIMS: 'IGNORES THE ROOT OF THE VIOLENCE'
A speaker at the event said the organizers "stand in full solidarity with Palestinians as they resist over 75 years of Israeli settler colonialism and apartheid."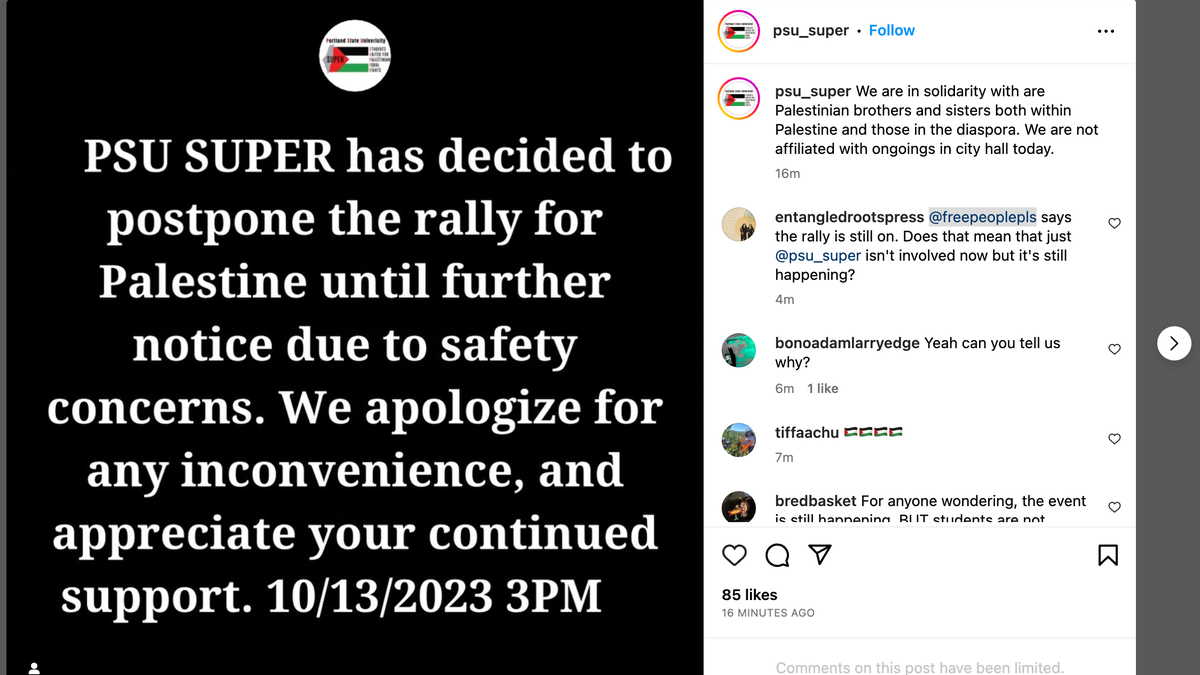 "Resistance is justified when people are occupied," another speaker shouted. "What did you expect would happen when you besieged Gaza for all of these decades!"
Portland State University students had planned a protest but called it off until further notice due to "safety concerns" and distanced themselves from a protest that was occurring at Portland City Hall, stressing it was "not affiliated" with them.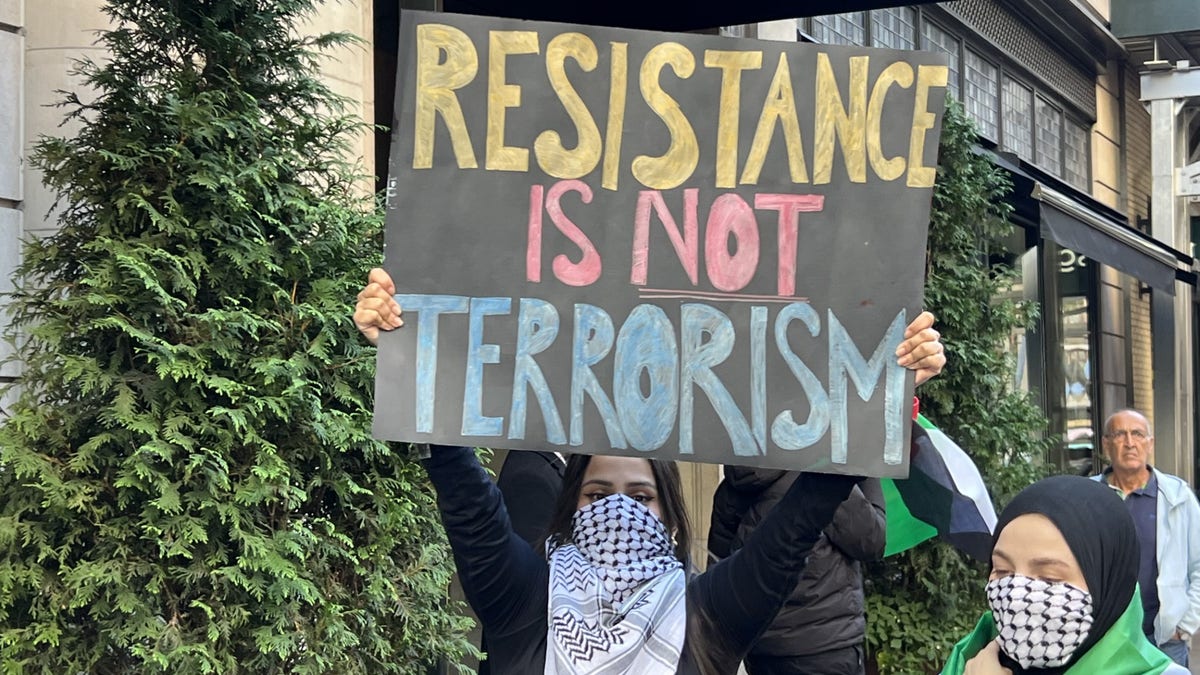 Around 300 to 400 protesters showed up to Portland City Hall but appeared to disperse around 4 p.m.
CHICAGO LAWMAKERS PASS ISRAEL SOLIDARITY RESOLUTION AMID PROTESTS FROM PRO-PALESTINIAN SUPPORTERS
Hundreds of students turned out on Thursday on Columbia University's main campus, many draped in or carrying Israeli flags or adorned with the Palestinian keffiyeh (headscarf) in support of each side. The protests remained peaceful.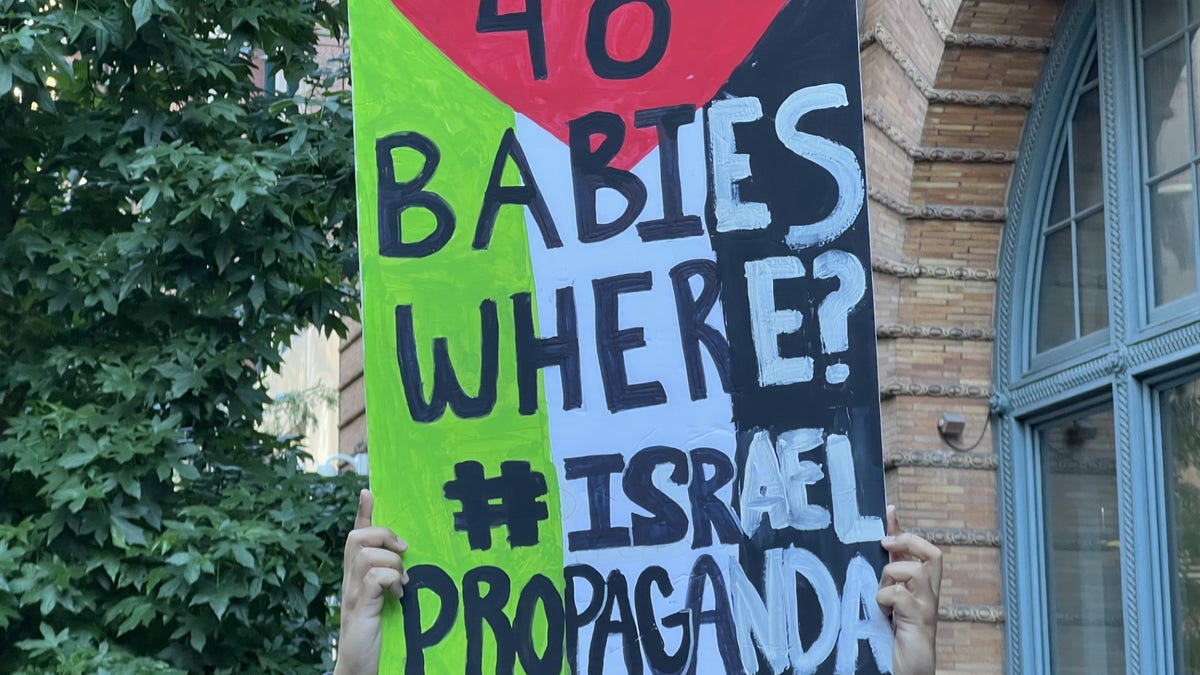 At Baruch's event, New York City police arrested the demonstrators, including pro-Israel counter-protesters who showed up at the event. Signs held by protesters include questions about the viral claim that the Israel Defense Force (IDF) found beheaded infants among the dead on a kibbutz in southern Israel and whether "killing kids" is "self-defense." 
Jewish students at the colleges called the protests "unjust" for the fact that they supported "a terrorist organization." 
"They are not supporting Palestinians who want peace with Israel," one protester told Fox News Digital. "They are supporting a deep-rooted hate of Jews."
Fox News Digital's Kassy Dillon and Megan Myers contributed to this report.