Colorado police are searching for a "spicy" couple who allegedly stole from a discount store and pepper-sprayed two employees, all while one of them had a cat in her bag, authorities said. 
The Lakewood Police Department dubbed the male and female suspects "Lilo" and "Stitch," after the two main characters in the animated Disney comedy film "Lilo & Stitch" because of their matching T-shirts emblazoned with the fictional creatures. 
The pair were in a Five Below store, which sells products typically for $5 or less, on July 1. The pair apparently made a memorable impression on local law enforcement, who recognized them as its "cute couple of the month!"
MAN CHARGED IN STANDOFF AT LAS VEGAS CASINO RESORT IDENTIFIED AS FUGITIVE IN COLORADO KIDNAPPING CASE
"You made yourselves extra memorable by using pepper spray to assault two employees trying to stop you," the Police Department said in a social media post. 
"We were so impressed with your 'twinning' that we didn't even notice the cat accomplice until the second time we watched the video," the post continued. "We've named the cat 'Mittens,' because that name won the office pool. We'd like to make sure Mittens is ok after that scary ordeal, please call us, so we can check on him or her!"
Describing "Ohana," which means family, from the "Lilo & Stitch" film, the police said they would love to make the couple part of the "'Ohana' at the Jefferson County Jail. We can add matching silver bracelets for both of you!!"
Authorities also commented on the footwear the suspect wore during the alleged robbery, including the slippers worn by the female, which was left behind.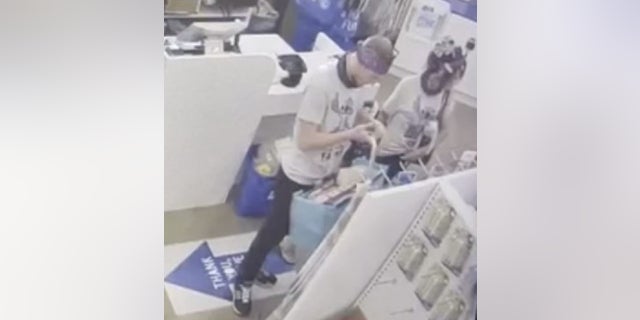 "Don't get us wrong, the fashion of those glittery flip-flops is FIRE, but you stepped out of one while assaulting store employees!" the post said. "We were kind of bummed the matching outfits didn't include shoes but have to admit the fresh New Balances Stitch was wearing were a more practical choice for robbing the store."
The department is asking anyone who has information on the "Lilo and Stitch" suspects to call 303-987-7244.