Columbia University will no longer require undergraduate applicants to submit standardized test scores, making it the first Ivy League school to permanently go test-optional.
The university announced the decision on its Undergraduate Admissions webpage Wednesday though the New York City-based college has not required test scores from applicants since the 2020-2021 academic school year.
The initial move to temporarily drop the requirement came shortly after the beginning of the COVID-19 pandemic in 2020 – an initiative made by many higher-education universities at that time who have now also made the policy permanent.
Columbia said its decision to continue the policy was "rooted in the belief that students are dynamic, multi-faceted individuals who cannot be defined by any single factor."
OREGON DEPARTMENT OF EDUCATION LINKS STANDARDIZED TESTING TO WHITE SUPREMACY
The university also said its approach to applicants stresses a "holistic and contextual application review process," and considers numerous factors.
"Our review is purposeful and nuanced — respecting varied backgrounds, voices and experiences — in order to best determine an applicant's suitability for admission and ability to thrive in our curriculum and our community, and to advance access to our educational opportunities," the announcement said.
Columbia said its application is designed to give students "the greatest possible opportunity and flexibility" to fully represent themselves and their academic talents, interests and goals.
NEW MEXICO ELIMINATES THE NEED TO PASS STANDARDIZED TESTING FOR STUDENTS ON TRACK TO GRADUATE IN 2024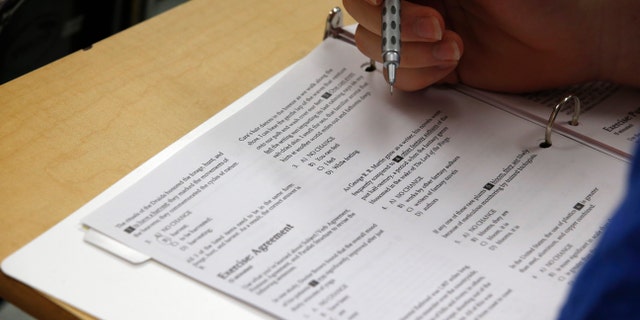 Other Ivy League schools have extended similar test-optional policies prompted by the pandemic, but none have dropped the requirement permanently.
According to the Columbia Spectator, The University of Pennsylvania expanded its test-optional policy through the 2023-2024 admissions cycle, while Cornell has extended the program through 2024-2025. 
Harvard and Princeton have also continued theirs through the 2025-2026 school year. Dartmouth, Brown and Yale have yet to make a decision.
Admission statistics released last March showed the university received 60,377 applications for the 2022-2023 school year and admitted 2,253 students – resulting in an applicant acceptance rate of 3.73%. 
The report noted admitted students who identify as people of color increased by 4% from the previous year, first-generation college students increased by 3%, students eligible for Pell grants increased by 2% and international students also increased by 2%.