Apple has announced that it will release a new group of 31 different emojis with its iOS 16.4 update expected to come out sometime in the spring.
CLICK TO GET KURT'S CYBERGUY NEWSLETTER WITH QUICK TIPS, TECH REVIEWS, SECURITY ALERTS AND EASY HOW-TO'S TO MAKE YOU SMARTER
As Republicans have been able to use the elephant emoji to honor their party on social media and texts since 2015, Democrats have waited eight years to finally get to do the same since one of the newly released emojis will be a donkey.
MICROSOFT IMPOSES LIMITS ON BING CHATBOT AFTER MULTIPLE INCIDENTS OF INAPPROPRIATE BEHAVIOR
Who decides what emojis get made?
If you're wondering why it took all these years for the donkey emoji to become a thing, the decision is made by the information technology standard known as Unicode.
The nonprofit corporation has what is called the Unicode Emoji Subcommittee, and they have selection criteria that they must follow when choosing new emojis. Essentially, the way they choose comes down to these 3 main factors:
Will the image work at the small size at which emojis are commonly used?
Does the emoji add to what can be said using emoji or can the idea be expressed using existing emoji?
Is there substantial evidence that a large number of people will likely use this new emoji?
Over the years, the committee has also considered inclusion factors such as race, gender and sexual orientation. Way back when emojis first came out, all human emojis pretty much had one skin tone (white), all the couple emojis only showed heterosexual couples, and all the single people emojis typically had limited hairstyles.
Nowadays, you can find emojis with pretty much any skin tone, same-sex couples and long-haired, short-haired and even bald person emojis. Some Democrats have taken to social media to ask why there has never been a donkey emoji created for the Democratic Party in the past, so it looks like Unicode is finally caving in.
What other new emojis are coming out?
Here is a full list of the 31 new emojis Apple will be releasing.
CHATGPT'S ANTI-CHEATING TECHNOLOGY COULD STILL LET MANY STUDENTS FOOL THEIR TEACHERS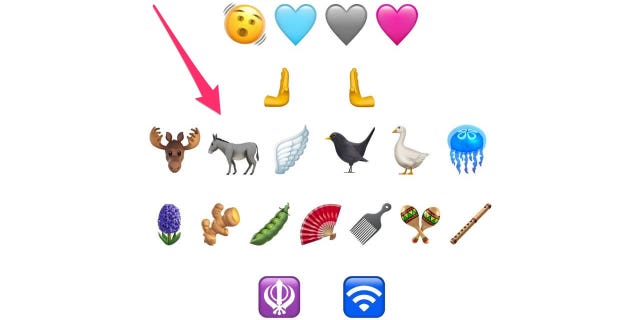 Credit: Emojipedia
Shaking Face
Pink Heart
Light Blue Heart
Grey Heart
Donkey
Moose
Goose
Wing
Jellyfish
Hyacinth
Pea Pod
Ginger
Folding Hand Fan
Hair Pick
Flute
Maracas
Khanda
Wireless
Rightward Pushing Hand
Leftward Pushing Hand
Black Bird
Rightward Pushing Hand: Light Skin Tone
Rightward Pushing Hand: Medium-Light Skin Tone
Rightward Pushing Hand: Medium Skin Tone
Rightward Pushing Hand: Medium-Dark Skin Tone
Rightward Pushing Hand: Dark Skin Tone
Leftward Pushing Hand: Light Skin Tone
Leftward Pushing Hand: Medium-Light Skin Tone
Leftward Pushing Hand: Medium Skin Tone
Leftward Pushing Hand: Medium-Dark Skin Tone
Leftward Pushing Hand: Dark Skin Tone
HERE'S HOW CLEAN FREAKS GET THEIR FILTHY TECH SPOTLESS
What emoji would you like to see created? Let us know your thoughts.
For more of my tips, subscribe to my free CyberGuy Report Newsletter by clicking the "Free newsletter" link at the top of my website.
Copyright 2023 CyberGuy.com. All rights reserved. CyberGuy.com articles and content may contain affiliate links that earn a commission when purchases are made.