Environmental advocate and legal consultant Erin Brockovich traveled to the epicenter of the Norfolk-Southern train derailment in East Palestine, Ohio, where vinyl chloride and other extremely caustic chemicals were released into the ecosystem earlier this month.
Residents and local officials have been pleading for substantive help from the federal government, while the two affected states' governors – Ohio Republican Mike DeWine and Pennsylvania Democrat Joshua Shapiro – have been visible in the aftermath.
Brockovich told Fox News there appears to be attempts to "gaslight" the locals into believing "nothing's wrong" and that the water is safe to drink and air is safe to breathe, despite reporting to "Tucker Carlson Tonight" that schools have shuttered drinking fountains and some private wells have locks on them.
"It's very obvious something's really gone wrong out here. I've been out here down on the ground. and they're really frustrated. Why? They don't feel that their agencies or their administration cares about what's happened to the communities," she said.
PENCE TORCHES 'AWOL' BIDEN OVER TRAIN SPILL RESPONSE
"So it is very apparent they are concerned and not being seen or heard," said Brockovich – who was the subject of the 2000 film starring Julia Roberts that dramatized the advocate's 1993 probe into effects from a groundwater contamination near Barstow, Calif.
Brockovich said residents' own observations do not often reconcile with what they are being told, particularly in regard to freshwater.
"It's like, oh my gosh, come on — we're out here — 44,000 fish are dead? We've seen them. We've seen them out here today aerating the creeks. They're removing stuff – The wellheads are locked — What's up?" she said.
Brockovich said reports of fishkills are the East Palestine equivalent to the "canary in the coal mine" test used decades ago to determine whether the air in mineshafts was safe for miners.
"You've sent a horrible mixed message to this community: Drink the water. Don't drink the water. Safe, not safe — it's horribly confusing and extremely frustrating to them," she said.
GABBARD TOURS OHIO DERAILMENT ZONE, PRAISES COMMUNITY WHILE CALLING OUT 'FAILURE OF LEADERSHIP'
"You can explain it away all day long to me, that's nothing's wrong. But I see what's going on here. You're not going to gaslight me."
Former President Donald Trump flew in pallets of bottled water and cleaning supplies during a visit earlier in the week, and former New York City Mayor Rudolph Giuliani – who led the 9/11 recovery – met with East Palestine Mayor Trent Conaway shortly before Transportation Secretary Pete Buttigieg visited as well.
DeWine and U.S. EPA Administrator Michael Regan recently visited Ohio residences, sampling tap water to show locals it is safe to drink.
Across the line in Beaver County, Pa. – only a few miles from the epicenter – Pennsylvania State Sen. Doug Mastriano, R-Gettysburg, visited affected areas and videotaped creekbeds he said gave off a chemical sheen and "butane smell" when lightly disturbed.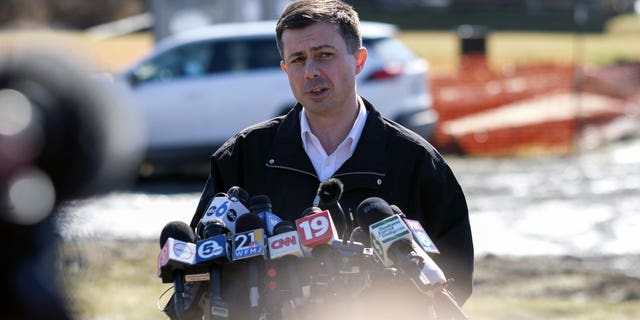 Shapiro, who defeated Mastriano in the 2022 gubernatorial contest, announced earlier this week a "criminal referral" had been lodged in relation to the catastrophe that also affected his state.
The State Senate's Emergency Preparedness Committee – chaired by Mastriano and Democrat Katie Muth of Royersford – held a hearing in the area Thursday, where the Republican leader prominently represented the absence of Norfolk-Southern executive Alan Shaw as an invited witness with an empty chair and nametag.