The CIA's onetime Moscow station chief revealed he was presented with but refused to sign the letter that ultimately 51 intel officials signed, which asserted Hunter Biden's laptop left at a Wilmington repair shop had hallmarks of a "Russian information operation."
Daniel Hoffman told Fox News he was presented with the letter on October 18, 2020, and was asked to add his signature.
"[A]t first glance, it seemed natural to lay the blame at the Kremlin's doorstep, "Hoffman said. "Remember, Vladimir Putin is in the Kremlin and he's well-known for cloak-and-dagger espionage operations. But at the same time, there was no evidence. And the letter noted there was no evidence."
Hoffman called the storyline presented a "convoluted" one for which agencies with forensic investigation abilities like the FBI should have done their diligence before he would sign it.
JORDAN: BIDEN MADE HUNTER LAPTOP LETTER 'SEEM ORGANIC' AS ANTONY BLINKEN OUTED AS 'IMPETUS'
"It was not up to us to speculate. So I didn't sign the letter. I typically don't put my name to other people's words," he said.
In that regard, House Judiciary Committee Chairman Jim Jordan recently revealed that former CIA Acting Director Michael Morell testified before his panel that now-Secretary of State Antony Blinken was the "impetus" behind the letter, which Morell and 50 others signed.
When asked for comment by reporters last week, Blinken spokesman Vedant Patel said the revelation is not a State Department matter.
Then-candidate Biden made the letter conversely "seem organic" when it came up during an NBC presidential debate with then-President Donald Trump. Trump allies have said the former president has been vindicated for his claim in response to Biden that the letter was "another Russia-Russia-Russia [hoax]."
On "America Reports," Hoffman said that at the time he was presented with the letter, his now-late wife was undergoing cancer treatment and he didn't have the time to ask Morell "what the point was about the letter."
"So I just left it and didn't sign the letter and didn't respond."
The letter was however signed by several high-profile individuals including Bush-era CIA Director Michael Hayden, Obama-era CIA Director John Brennan, former DNI James Clapper, former CIA chief of staff Jeremy Bash, and former National Intelligence Council Chair Thomas Finger.
Hoffman said the typical protocol for a case like the laptop was to meet in Morell's office for "particularly difficult, challenging intelligence issue[s] … and hash out all the evidence that we had."
"Then Michael would draw analytical conclusions with some level of confidence — low, medium or high – and bring it to the White House. We didn't have that debate about this laptop issue. We weren't invited to debate it."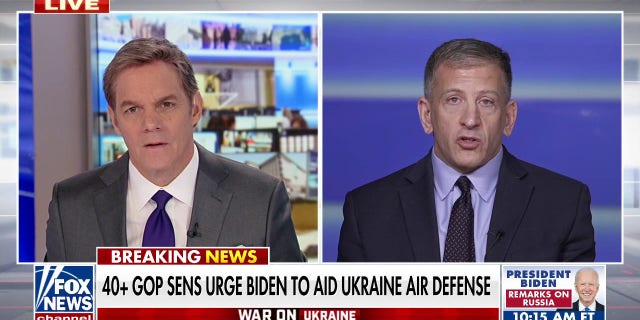 Hoffman concluded that, as a former U.S. intelligence officer in Russia itself, it was surprising he or others were part of any discussions on the veracity of the disinformation claim.
He added that Americans should be careful to delineate between active/current and former intelligence officials and what they are alleging.
"The part that I didn't know – and I'm assuming that my former colleagues who signed the letter probably didn't know either – was that Michael Morell had discussed the laptop issue with then campaign adviser Tony Blinken. So Michael was aware of the campaign's interest."
He said there is then a "straight line" from the letter supported by Blinken, presented by Morell and Biden's comments during that NBC debate.
Some conservatives including Rep. Elise Stefanik, R-N.Y. – who made remarked in Congress about the matter – have claimed that as many as 53% of people who were made aware of the contents of Hunter Biden's laptop would have changed their vote in 2020.