Former Federal Emergency Management Agency administrator Michael Brown rebuked President Biden over his public response to the catastrophic fires in Maui that have killed more than 100 and left the historic city of Lahaina in ruins.
Brown, who helped lead then-President George W. Bush's response to Hurricane Katrina in 2005, said at this juncture Biden should skip Maui and go straight to Oahu.
"Let's differentiate the response from Biden's response, because Biden's response is an abject failure: 'No comment'?" he asked on "The Ingraham Angle," referring to the president's reply when asked by reporters in Delaware this week if he had a response to the crisis.
Brown suggested Biden instead fly to nearby Oahu and meet there with Democratic Gov. Josh Green instead of creating what he claimed would be a stymieing of disaster response on Maui.
MAUI FIRE VICTIMS RECEIVING SCANT SUPPORT FROM ALL LEVELS, GABBARD CLAIMS
"If he wants to go to Honolulu and meet with the governor, that's fine, but I can tell you from personal experience that if he goes to Maui, it will interrupt operations because the United States Secret Service will put an air-cap over Maui," Brown said, foreseeing a presidential landing in Kahului becoming a "complete disaster."
Brown said he would encourage Biden to get a "photo-op" with Green at this point if desired, but reiterated he should stay away from the disaster zone and let FEMA do their job without limitations.
Host Laura Ingraham later asked Brown about October 2022 comments by Hawaii Commission on Water Resource Management Deputy Director M. Kaleo Manuel regarding how water should "connect us and not divide us."
"We can share it, but it requires true conversations about equity," Manuel said in the clip.
Brown criticized those comments, asking, "Are you freaking kidding me?" 
HAWAII WILDFIRE BECOMES DEADLIEST US BLAZE IN MORE THAN A CENTURY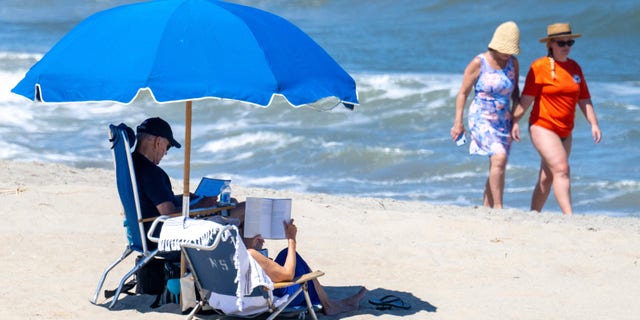 He suggested the desalination plant at Pearl Harbor, Oahu, could be moved to Maui, which would produce potable water within a few days.
"With regard to actually releasing water for firefighters during a wildfire — and you're talking about equity?" Brown asked.
"I didn't expect to hear that on the program tonight," he said. "That's absolutely unbelievable."
That controversy arose when a land firm on Maui wrote to Manuel alleging water release delays that might have hampered firefighters, according to Newsweek.
Green touched on the subject of water issues during public remarks Monday, according to the Honolulu Star-Advertiser.
"… there's been a great deal of water conflict on Maui for many years. It's important that we're honest about this. People have been fighting against the release of water to fight fires. I'll leave that to you to explore," he said, according to the outlet.
On "The Ingraham Angle," Brown added that Biden must reassure Americans in both Hawaii and the Lower 48 that the feds are doing everything they can to assist Mauians.
He said current FEMA Director Deanne Criswell must be on-site to assure proper coordination among all relevant entities, and not work from Washington.
Criswell has indeed been in Hawaii, as she video-conferenced into Monday's White House press briefing from the Aloha State.
Ingraham added that during Hurricane Katrina, Brown might have gotten a bad rap due to clashes with then-DHS Secretary Michael Chertoff.
For more Culture, Media, Education, Opinion, and channel coverage, visit foxnews.com/media.