A Florida man's dramatic rescue is credited to his iPhone sending police a distress signal after he swerved his car into a murky canal after avoiding an animal.
"It's technology you may not even realize you have, but this dramatic rescue should remind you of its importance, as well as the importance of sharp dispatchers and brave deputies." the Martin County Sheriff's (MCSO) shared in a post. 
At approximately 1 a.m. on Wednesday, March 1, a 38-year-old's vehicle crashed into the water after attempting to avoid an animal on the road in southeast Florida, the MCSO shared in a Facebook post.
The high-impact crash caused the driver's iPhone to send a distress signal to the county's emergency dispatch center, police shared. The alert sent first responders the "longitude and latitude" of the crash which led responders to a "dark desolate road."
MISSING GEORGIA WOMAN FOUND DEAD IN SUBMERGED CAR
The intense footage shows deputies shining a bright flashlight at the crash scene with the victim pleading for help as police jumped into action.
"Ok buddy, I got you," a deputy is heard calming telling the driver in the bodycam footage.
"Hey, you got air buddy?" another deputy asks. 
The handle of the car, which broke off during the crash, is seen floating in the dark, murky water, but deputies persisted and were able to eventually pull the man to safety.
"Can you give me a blanket, sir, I'm freezing," the man is heard pleading with deputies.
10 INJURED IN SHOOTING AT MIAMI RESTAURANT DURING FRENCH MONTANA MUSIC VIDEO SHOOT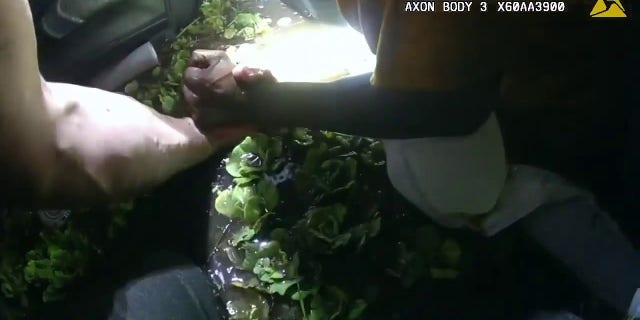 The driver was taken to the hospital with minor injuries, the sheriff's office shared.
"We would like to commend our brave deputies and incredible dispatchers for their perseverance and bravery locating and rescuing this crash victim using only coordinates automatically launched from the victim's phone." MCSO shared. "Amazing technology, and amazing work."
The life-saving technology is available on both iPhones and Androids. On an iPhone, the feature is listed under Settings as "Emergency SOS." On an Android, the feature is also under Settings and listed as "Car Crash Detection."
The technology uses motion sensors and nearby sounds to detect a possible severe car crash. While Apple's "Emergency SOS" technology does not detect all crashes, the technology alerts when a "severe car crash is detected," Apple explained. 
According to Apple, if the crash detection feature detects a severe crash, the user will be give an option to call emergency services by swiping the Emergency Call slider on the iPhone or Apple Watch, or dismiss the alert. If they do not respond to the alert after 10 seconds, the device begins another 10-second countdown. If they still haven't responded, the device calls emergency services.