The Florida high school student accused of violently attacking a teacher's aide who he says took his Nintendo Switch was previously hit with three misdemeanor battery charges on separate occasions.
Brendan Depa, 17, is being charged as an adult and faces one felony count of aggravated battery on an elected official or education employee after deputies say that he attacked a teacher's aide on Feb. 21, who the student alleges took his Nintendo Switch during class time. The incident happened at Matanzas High School in Palm Coast, Florida.
Depa is being held in jail on a $1 million bond.
Court documents obtained by Fox News Digital show that Depa has three prior misdemeanor battery charges, one in March 2019, April 2019, and June 2019. All of the misdemeanor charges stem from the 13th Judicial Circuit, which is located in Hillsborough County.
FLORIDA STUDENT ACCUSED OF ATTACKING TEACHER'S AIDE WHO TOOK NINTENDO SWITCH TO BE CHARGED AS ADULT
For those charges, court records show that Depa completed a program within the Department of Juvenile Justice.
He was initially taken into custody and put in the Perry Hall Inmate Detention Facility, but was later turned over to the Florida Department of Juvenile Justice, the Flagler County Sheriff's Office said.
After being arrested on Feb. 21, court records show that he was released from Department of Juvenile Justice custody on Feb. 22, when he was released to East Coast Habilitation Options in Palm Coast, Florida, which describes itself as a "a group home agency for behaviorally challenged children and young adults."
Depa was re-arrested on Feb. 24, when his case was transferred to adult court. Depa is also ordered not to have contact with the teacher's aide who he allegedly assaulted.
Court records show that Depa was living with his mother at the time of his most recent arrest on Feb. 21. 
FLORIDA TEACHER'S AIDE VIOLENTLY ATTACKED AFTER TAKING STUDENT'S NINTENDO SWITCH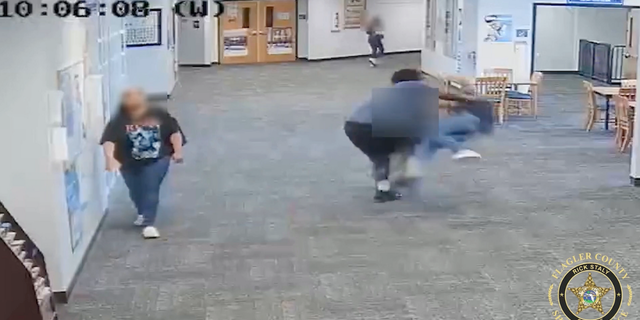 According to WESH-TV, the teenager is considered a special needs student.
Surveillance video released by police shows the 6-foot-6-inch, 270-pound student rushing up to the teacher's aide and pushing her to the ground, who is then seen continuing to punch and kick her.
The 17-year-old student is seen punching the teacher's aide for several seconds until a group of people forcibly removed him.
Video of the incident shows the high school employee on the ground for several minutes before being helped up.
Sheriff Rick Staly said the teacher could have been killed, according to WESH.
"This could have been a homicide," Staly said. "When you push people down like that, they hit their head, you never know the outcome."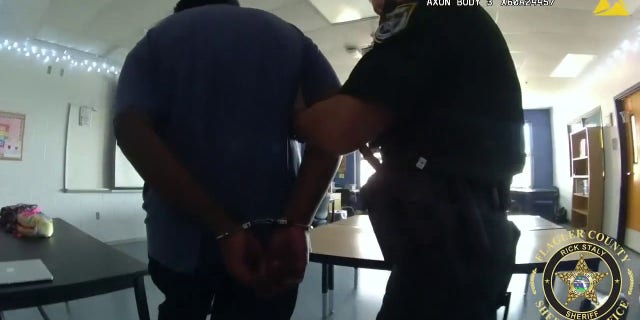 When the student was arrested, body worn camera video shows him saying "F–k you" to one of the deputies before he was arrested.
"I don't want to go to jail," the suspect said.
While being taken into custody, Depa allegedly said that he would "beat her up every time she takes away his game." Depa also made comments stating that he "is going to hill her" when he comes back.
The teacher's aide was taken to a local hospital where she was treated and released. She is believed to have broken ribs and significant bruising.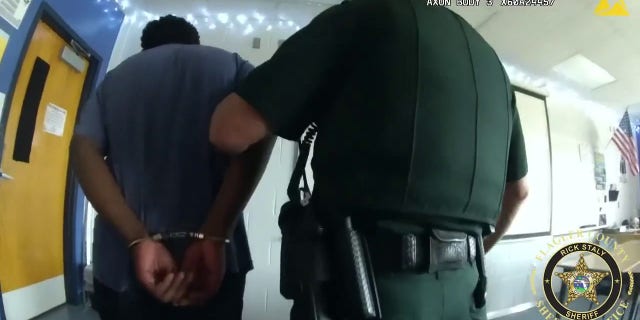 "I believe she will be out of work for at least several weeks, if she even plans on returning," the sheriff's office wrote.
"The actions of this student are absolutely horrendous and completely uncalled for," Staly said. "We hope the victim will be able to recover, both mentally and physically, from this incident. Thankfully, students and staff members came to the victim's aid before the SRDs could arrive. Our schools should be a safe place – for both employees and students."