An officer with the Jacksonville Sheriff's Office in Florida has received a Letter of Commendation from his department after he saved a kitten wedged inside the wheel well of a car — proving that to police offers, even the tiniest lives are worth saving.
Officer Marshall Smith was "actively patrolling his assigned area" on July 3, 2022, when he saw a car blocking traffic and stopped to investigate, said the March 2, 2023, Letter of Commendation signed by Jacksonville Sheriff T.K. Waters.
"Citizens informed Officer Smith that a small kitten had climbed into the wheel well of the vehicle that was blocking traffic, and that if the car was moved, the kitten would almost certainly be killed," said the letter.
'LADY GODIVA,' A MINNESOTA CAT WHO SURVIVED OUTSIDE FOR A DECADE, SEEKS NEW HOME
The kitten apparently jumped into the wheel well of the vehicle, making itself quite at home.
Despite many attempts to extract the kitten, the small cat refused to come out, the letter notes. 
"Officer Smith immediately began his own efforts to coax the kitten out of the wheel well, but in its frightened state, the kitten resisted Officer Smith, including by biting him multiple times," said the letter.
MISSING NEW YORK CAT ACTIVATES HER FAMILY'S RING DOORBELL: 'WE ALL JUST SCREAMED'
"Undaunted" by the kitten's ferocity, Smith then came up with the idea to "use water to gently force the kitten out of the wheel well," says the letter.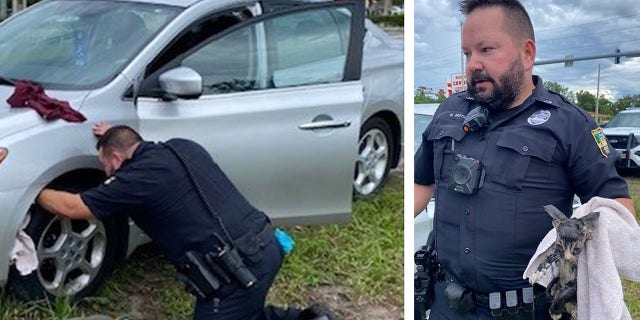 His plan worked — and the suddenly soggy (and likely confused) kitten was "safely removed from the car and turned over to a citizen at the scene," notes the letter. 
HERO CAT IN MISSISSIPPI HELPED PREVENT A ROBBERY, POSSIBLY EVEN SAVED A MAN'S LIFE
In February, the Meritorious Awards Review Board decided that "Officer Smith's actions in saving the kitten were commendable and should be recognized through a Letter of Commendation," said the letter.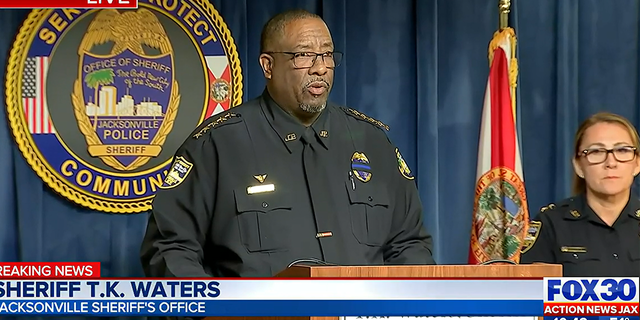 "Officer Smith's actions during the incident clearly demonstrate his commitment to JSO's core value of being community focused, even to our animal citizens," the letter read.
"Officer Smith is to be commended for going above and beyond the call of duty to save this kitten."  
"Let's give Officer Smith a round of a-paws!" 
The kitten was named Marshall in honor of his rescuer, the Jacksonville Sheriff's Office revealed in a Facebook post. 
"Thank you, Officer Smith, you definitely went above and beyond!" wrote one Facebook commenter.
Another wrote, "Let's give Officer Smith a round of a-paws!"