Sen. JD Vance, R-Ohio, sounded off on President Biden's absence from the Ohio-Pennsylvania border regions affected by the Feb. 3 Norfolk Southern train derailment that released chemicals like vinyl oxide into the community.
Vance also told "The Ingraham Angle" Democrats' attempts to pin blame for the derailment on President Trump "partisan hackery," especially given his attempts to aid the East Palestine, Ohio, community.
Trump visited with community members and officials in February, flying in pallets of Trump Water and cleaning supplies, and purchasing meals for first responders.
Vance was asked about railway safety legislation he and both Pennsylvania Democratic Sens. Bob Casey Jr. and John Fetterman are crafting in response, in contrast to how locals in Columbiana County, Ohio, and Beaver County, Pa., feel "abandoned" by Biden.
OHIO SENATORS RAISE ALARM ON CANCER-CAUSING CHEMICAL POTENTIALLY SPREADING IN EAST PALESTINE
"I can't explain that, and frankly, why hasn't this administration shown up until Trump and other folks effectively forced the administration to start paying attention to this?"
"You want the government to do its basic job. You want the EPA and other folks to actually be on the ground responding to the crisis in real-time… You also just want leaders to actually show up and let people know that they care."
While Trump and others like former New York City Republican Mayor Rudy Giuliani have engaged in the latter, Vance said Biden has been a "totally catastrophic failure" in that regard.
"They blamed the Trump administration on the one hand, which was completely nonsensical, in addition to being complete partisan hackery, and they refused to show up," he said.
VANCE BACKS BANKS IN INDIANA SENATE GOP PRIMARY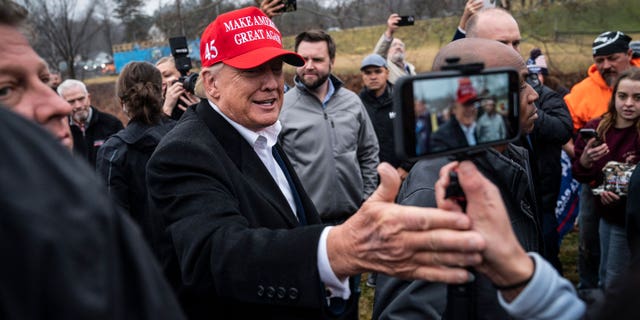 "On the other hand, it's no wonder the folks of East Palestine feel left behind. I've been fighting every single day to make sure they get the support that they need… "
Vance rejected comments from Senate Majority Leader Charles Schumer, D-N.Y., claiming Trump was "doing the bidding of special interests [and] caus[ing] harm to the American people" in reference to Trump-era rollbacks of some railroad regulations.
"This really bothers me," Vance said. "Because it's a complete dereliction of leadership. Look, when you talk about regulations, this is an obvious point, or at least it should be: You want to get rid of regulations that don't promote public safety, but you want to make sure that we actually are ensuring public safety with the laws that we have." 
"There is not a single regulation or deregulatory thing that the Trump administration did that you can pin on East Palestine."