At age 82, Donna Mills has plenty of spring in her step.
On Friday, the former "Knots Landing" star spoke candidly about her workout routine to look and feel youthful at the 30th Annual Movieguide Awards.
"Well, I've started out as a dancer, so I have discipline," the star told Fox News Digital. "I work out [almost] every day. You know, that's important. It's important to keep it all moving."
The actress insisted that her secret to staying in shape is surprisingly simple – it's a regimen she said anyone can practice at home.
'KNOTS LANDING' STAR DONNA MILLS RECALLS ON-SCREEN KISS WITH CLINT EASTWOOD: 'I WOULD GIVE HIM A TRIPLE A'
"I do usually a Peloton bike for about half an hour," Mills explained. "Then I stretch a lot. Then I do some weights."
Mills also noted that when she wants to move her workout outdoors, she simply walks her dogs.
Mills has plenty of reasons to be thankful these days. She is keeping busy pursuing her love of acting after taking an 18-year hiatus. At age 54, Mills became a mom when she adopted a newborn baby girl named Chloe back in 1994.
Chloe, now 28, is a model and an executive at Soho House, an elite, private club for those involved in the arts, politics and media.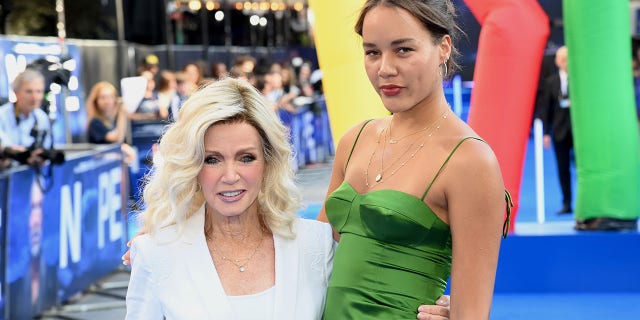 "I wanted to be a mother," she reflected. "There was a longing in my soul to be a mother. And so, that's what I did. And in order to do that, I couldn't work. I couldn't leave her for months at a time or anything. So I didn't. And it was great. I was very fortunate that I was in a position to be able to do that. Not everybody can, so I feel very lucky that I was."
Back in January, Mills spoke to Fox News Digital about why staying active is an essential part of her life.
"I've never stopped exercising just because I'm getting older," the actress said at the time. "I think a lot of people tend to have the mindset of, 'I'm too old now. I don't need to do that anymore.' But I think it's the opposite. You have to keep moving. I think it's so important to sweat every day.
"There are days when it can be difficult because I have to be at the set at seven o'clock in the morning. But I think the key is carving out that time each day when you can just sweat. I think that's really important. Your body will just kind of atrophy if you don't keep using it."
'KNOTS LANDING' STAR DONNA MILLS, 81, DETAILS HER SECRETS TO STAYING FIT: 'I'M CAREFUL'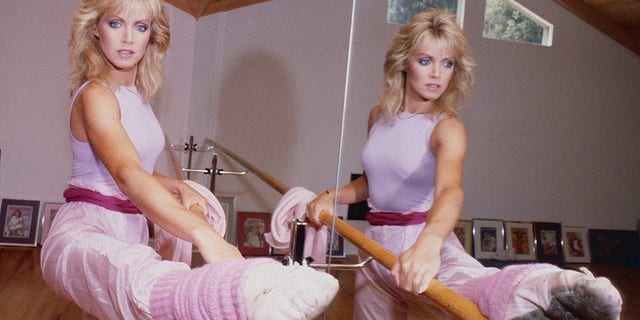 Mills said she's not a fan of going to the gym because it can be awkward "having other people around" during the middle of a workout. So, she decided to create a space in her home where she can work out at any time and feel completely at ease. She's also a fan of tennis and plays five times a week for two hours.
"I have a Peloton, which I absolutely love," she said. "It helps me to explore the world while I'm on it. It's really nice and fun, which I also think is important if you want to stick to something. There are some classes on it too that you can do if you need the extra motivation.
"It takes you to many beautiful places virtually. I also keep a set of light weights nearby. Nothing heavy. I'm also a dancer, so I have my own ballet barre to stretch. It's really good to keep your legs in shape and maintain that elasticity. If you don't have one, a kitchen counter works just fine."
Mills previously told AARP that, during her soap opera years, she "never ate pasta, sugar, bread, ice cream, cookies or any of that stuff." Mills admitted that the no-nonsense approach is not the easiest, but it kept her figure in camera-ready shape.
'KNOTS LANDING' STAR DONNA MILLS EXPLAINS WHY SHE TOOK A BREAK FROM HOLLYWOOD FOR 18 YEARS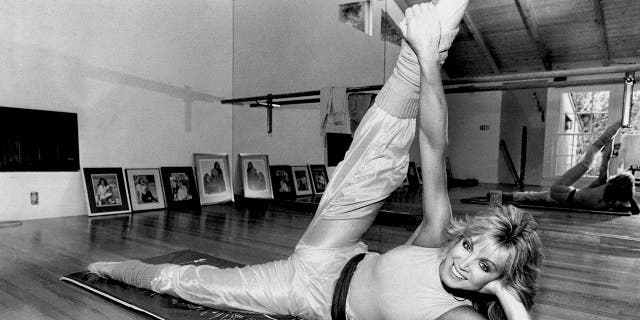 "I keep saying to myself, 'You gotta go back to what you did then,'" she chuckled. "That kept me extremely healthy. I never missed a day's work on 'Knots Landing.' For nine years I never missed a day of work. And I think it's because I just ate really well, which kept me healthy."
"It's not that I just didn't eat pasta," she continued. "I didn't eat starches. I ate mostly protein, vegetables and that was it. I seldom even had a glass of wine because there was too much sugar in it, and I never had sugar back then. I really do still believe that white sugar is poison."
While she is relaxed about her eating habits, Mills said she prioritizes eating "clean and green" with a vegetable-rich diet.