The U.S. Department of Education Office for Civil Rights (OCR) is opening an investigation into a Massachusetts school district after a complaint filed by Parents Defending Education (PDE) revealed a student theater production limited participation to students of color, according to a letter sent to PDE.
A January production of Newton North High School's Theater Ink program titled "Lost and Found: Our Stories as People of Color," would be "a reserved safe space for this exploration and for people of color to be vulnerable and support one another," according to the show's audition packet. 
"All BIPOC [Black, indigenous and people of color] students at North are invited to audition," the student director said in a video on Theater Ink's website.  
PDE believes the school district discriminated against students on the basis of race in its Lost and Found theater production "in violation of both Title VI of the Civil Rights Act of 1964 … and the Equal Protection Clause of the 14th Amendment to the U.S. Constitution."
CALIFORNIA SCHOOL DISTRICT PRESENTATION DIVIDES STUDENTS INTO CATEGORIES OF 'PRIVILEGE' OR 'OPPRESSION'
Theater Ink is "Newton North High School's Teaching and Working Theatre" and "is a student-centered community that emphasizes the process of artistic collaboration and instills a disciplined work ethic," according to its website, which links directly to a Black Lives Matter website. 
The audition for the "Lost and Found" play asked students how they "identify racially/ethnically" and the audition pamphlet specified that weekly rehearsals for the production would include "organized discussions about race and identity in our lives." 
BIDEN'S EDUCATION SECRETARY LOBBIES COLLEGES TO DROP OUT OF US NEWS RANKING IN NAME OF EQUITY
"Administrators at Newton North High School failed their student body by allowing a racially-segregated production to move forward – and missed the opportunity to impart the lesson that racial discrimination is always wrong," Parents Defending Education President and Founder Nicole Neily said in a statement to Fox News Digital.
ELITE FLORIDA PRIVATE SCHOOL REQUIRES STUDENTS TO TAKE A CLASS ON 'BIAS' AND 'EQUITY' TO GRADUATE
OCR enforces Title VI of the Civil Rights Act of 1964, which prohibits discrimination on the basis of race, color, or national origin in any program or activity receiving federal financial assistance from the Department of Education, according to the department's letter. Because the NPS is a public entity that receives federal financial assistance, it falls under the department's jurisdiction to ensure they are compliant with federal civil rights law.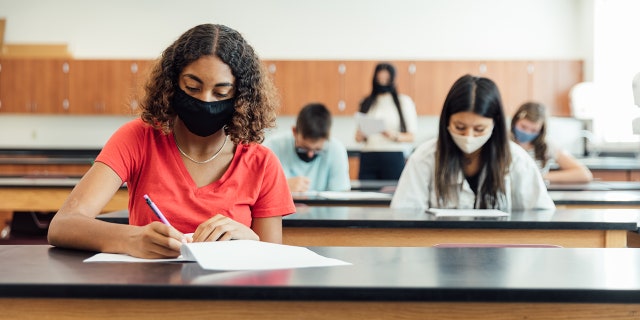 "Please note that opening the complaint for investigation in no way implies that OCR has made a determination on the merits of the complaint," the DoEd clarified in its letter. "During the investigation, OCR is a neutral fact- finder, collecting and analyzing relevant evidence from you, the District, and other sources, as appropriate."
NPS did not respond to Fox News Digital's request for comment.