Homeland Security Secretary Alejandro Mayorkas spoke at the League of United Latin American Citizens conference Wednesday, where he enthusiastically commended U.S. Border Patrol agents.
"The United States Border Patrol make up an extraordinary workforce – individuals who risk their lives every day to secure the border," Mayorkas told the LULAC crowd.
BIDEN ADMIN WEIGHS REVIVIAL OF POLICY TO DETAIN MIGRANT FAMILIES AMID SOUTHERN BORDER CRISIS: REPORTS
Mayorkas made the remarks in conversation with LULAC National President Domingo Garcia after his keynote address.
"And I will tell you something," he continued, "[In] the summer of 2014, I visited the border when the increase in unaccompanied children was occurring, and it was incredible what those Border Patrol agents were doing for those children out of their own pockets."
MAYORKAS SAYS HE WILL NOT RESIGN OVER BORDER CRISIS, INSISTS HE IS PREPARED FOR GOP INVESTIGATIONS
"What they were doing in terms of providing much needed supplies for those kids – whether it was blankets, diapers or whether it was toys," the secretary said. "These are parents in their own right and I want to commend the Border Patrol."
Asked by Garcia what his department was doing to improve humanitarian care at the border, Mayorkas defended the agency over images of migrant children sleeping on Border Patrol facility floors in silver mylar blankets.
BIDEN REPORTED MOVE TO DETAIN MIGRANT FAMILIES MARKS LATEST RIGHTWARD SHIFT AHEAD OF TITLE 42'S END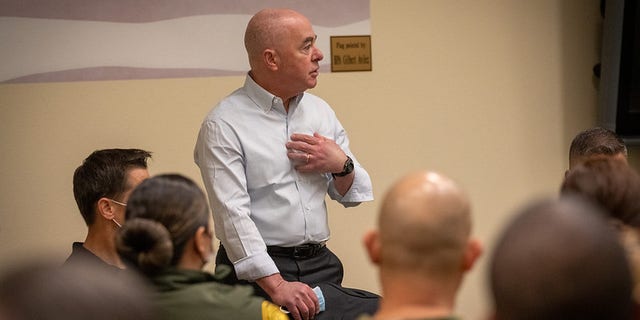 "This is why I said in 2021, when we saw the increase in the number of children in Border Patrol stations, 'The Border Patrol station is no place for a child,'" Mayorkas told Garcia. "There are no cots, there are no beds, so children are on the floor. Those silver blankets are mylar blankets. Why? Because they provide warmth but a cloth or wool or the like actually breed insects that can actually serve a detriment to the well-being of the children. So it's visually troubling, but it's actually a health safety issue."
He went on to say that – under his direction – the department went on to dedicate 300 individuals to ensure the system would not "bottleneck" at the stations.
"And so we succeeded in that process," he concluded.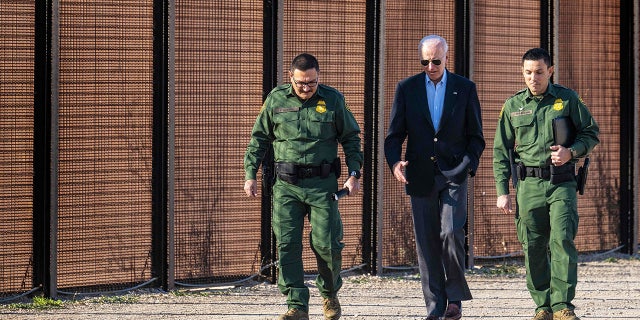 Mayorkas, a Cuba native who grew up in Beverly Hills, California, after his family fled the Castro regime, has been under fire for his handling of the southern border crisis.
Republicans claim he has failed to adjudicate standing federal immigration laws and instead has overseen a deluge of illegal immigrants.
Numbers at the border rocketed up shortly after the Biden administration took office and remained high since then. There were over 1.7 million encounters of migrants at the border in FY 21 and more than 2.3 million in FY 22. So far in FY 2023, which began in October, there have been more than a million encounters.