A tri-colored tabby cat in Minnesota is hoping that her rescue story ends in an adoption by a loving family. 
Magic, who is about 1 ½ years old, was discovered in October wandering in a parking lot.
Toni Moshinski, the office manager of Heart of Minnesota Animal Shelter, in Hutchinson, Minnesota, found the cat.
"She was emaciated, and I could tell she didn't have much left in her," Moshinski told Fox News Digital. "I used what I had — a sample bag of dog food in the back of my car — to coax her over to me."  
ADOPTABLE NEW YORK LABRADOR RETRIEVER MIX LOOKING FOR A HOME 'AS ACTIVE AS SHE IS'
Magic was about a year old when she was found, Moshinski said.
While the cat was eager to have food, she was not quite ready to interact with humans.
"I dumped out a bunch of the dog food to keep her occupied, and I reached back to the shelter to grab a can of wet food and a small dog carrier," she said. 
After leaving a trail of wet food to the carrier, Moshinski said she waited patiently for Magic to notice — and to fall into the "trap." 
"Magic slowly ate her way to the carrier. And in the back of my carrier was the ultimate jackpot," she said. 
NEW YORK CAT NAMED MOO MOO SEEKS LOVING HOME IN TIME FOR VALENTINE'S DAY
Once she successfully nabbed Magic and brought her to the safety of the shelter, Moshinski said she realized the kitty "was skin and bone." 
Magic was put on a re-feeding diet to make sure she accidentally did not eat too much and overwhelm her system, as she was very thin when found.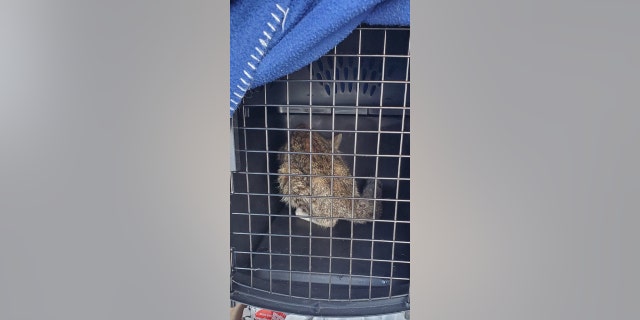 "She was scared, and though she allowed touch, you [could] tell she didn't appreciate it," said Moshinski. 
Magic was put on a "calming care" supplement; shelter personnel have seen many improvements in her attitude, Moshinski also noted.
CAT NAMED GRETA, AN 'AWARD NOMINEE' WHO'S COME A LONG WAY, IS AVAILABLE FOR ADOPTION IN NEW YORK CITY
For weeks, "we [were] spending time with her, talking to her, petting her — and she has made a remarkable change," she said. 
The once-timid cat now "greets people at her gate."
Now, the once-timid cat "greets people at her gate, makes biscuits [kneading with the front paws] in her blanket when you pet her, and will even grab your hand with her paw when you stop petting, as if to tell you, 'You're not done yet!'" Moshinski said.
Magic has become quite taken with her Christmas tree cat bed, which Moshinski said will travel with her once she is adopted.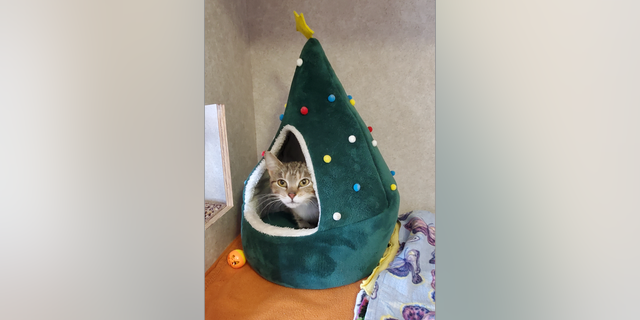 Anyone interested in bringing Magic into their home should contact the Heart of Minnesota Animal Shelter on its website (heartofminnesota.org). 
The shelter's adoption hours are Tuesdays and Thursdays from 5 p.m. to 7 p.m. and Saturdays from 1 p.m. to 5 p.m. 
Want to read about other pets up for adoption? Check out this article from Fox News Digital: California dog nominated for 'best cuddler' award needs new home after her owner gave her up
And click here for other Fox News Digital Adoptable Pets stories.