PALM BEACH, Fla. – Republican presidential candidate Vivek Ramaswamy, a health care and tech sector entrepreneur, conservative commentator, and crusader in the culture wars, is worth at least half a billion dollars.
Ramaswamy, who declared his candidacy for president less than two weeks ago in a live interview on the Fox News Channel, says he's "making a big personal investment" in his campaign.
He said his bid for the White House is "going to be lifted by the bottom-up grassroots donations – by the one-dollar donations, by the five-dollar donations, by the twenty-dollar donations."
And his campaign says that the candidate is averaging roughly 900 contributions per day.
HALEY BLASTS BOTH DEMOCRATS AND REPUBLICANS OVER EXPLODING NATIONAL DEBT
"The thing that's actually going to cause us to go the distance… is going to be the bottom up, small-dollar donations," Ramaswamy told Fox News Digital on Saturday.
He emphasized, "I think that's a good thing because one of the things that I didn't have to do – thankfully because of the success that I've had, is to ask a bunch of donors for permission to run… I'm not going to be beholden to anybody."
RAMASAMY VOWS TO MAKE 'MEANINGFUL INVESTMENT' IN HIS CAMPAIGN
Ramaswamy was interviewed on the sidelines of a donor retreat hosted by the politically influential fiscal conservative group the Club for Growth, which was held at an exclusive beachside resort in this upscale southeastern Florida seaside community.
But Ramaswamy wasn't asking for contributions from the donors, but rather some support for his message.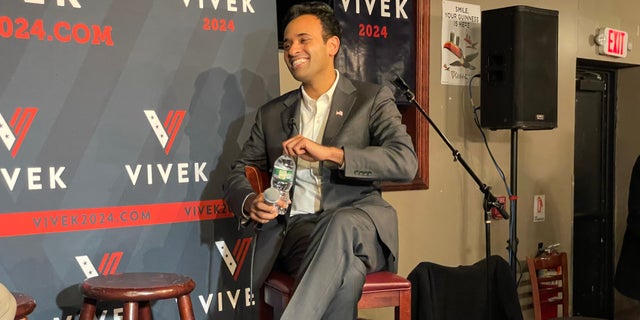 The 37-year-old Ramaswamy, author of "Woke, Inc.: Inside Corporate America's Social Justice Scam," says his vision centers on restoring the "national identity in America."
Among the things he aims to accomplish if his long-shot campaign for the White House is successful is to enact bureaucratic reform; end affirmative action; dismantle what he calls "this climate religion;" use the military" to actually protect our border, actually use it to solve the fentanyl crisis by treating the cartels south of the border as the terrorists that they are;" shut down the Department of Education, and implement eight-year sunset clauses for bureaucrats currently protected by civil service protections.
FORMER VICE PRESIDENT MIKE PENCE REVEALS HIS POTENTIAL 2024 ADVANTAGE
"I think there's a lot of things we're going to have to do in the next 10-20 years that are going to require some sacrifices," he stressed. "Sacrifices in declaring independence from China. That will not be easy. We can't permanently accumulate national debt. Weening ourselves from that will not be easy. But here's the thing about a sacrifice. You can make sacrifices if you know what you are sacrificing for – and for me that is this thing we call America."
But he argued that if you "fix the identity crisis – the rest of our problems become a lot easier."
After launching his campaign, Ramaswamy campaigned in New Hampshire and Iowa, the two states that have long kicked off the GOP's presidential nominating calendar.
When asked about how he's been received, Ramaswamy said, "I've been pretty encouraged that citizens and voters in this country are hungry for the message that I'm delivering. I think that people just hunger for this sense of American national identity. And yes, we want policies that are going to put America first and yes I have specific policies that a lot of them like, but I think the deeper quest for what it means to be American, I think this is the question of our time."
On the eve of his appearance in Florida, Ramaswamy spoke at the Conservative Political Action Conference, the largest annual gathering of conservative leaders and activists. The event, better known as CPAC, has been dominated for the past eight years by former President Donald Trump and his supporters. Trump is the front-runner in the GOP nomination race as he runs a third time for the White House.
"I think the crowd wasn't exactly sure what to make of me because I'm a competing candidate to Trump. The fact that we got five standing ovations in the middle of my speech, I didn't even get to finish everything I had to say because of the amount of applause I got," Ramaswamy touted.