In a display of school spirit, a high school cheerleader performed solo at the Nebraska State Cheer and Dance Competition — "go-fight-and-winning" for a crowd who, in turn, cheered loudly for her on Friday, Feb. 17.
"It was definitely out of my comfort zone," Katrina Kohel, a 17-year-old senior at Morrill High School, told Fox News Digital.
"This is not something I would normally do by any means, but I didn't want to end my senior year on a low note," she added. "I guess you could say I wanted to go out with a bang."
NEBRASKA GIRL, 5, ASKS HER GRANDPA TO ACCOMPANY HER TO THE DADDY-DAUGHTER VALENTINE'S DAY DANCE
When the rest of her already-very-small cheer squad of four couldn't make it to the state competition at the last minute, Katrina decided to go at it alone (SEE THE VIDEO at the top of this article).
After discussing it with her cheer coach, April Ott, Katrina moved forward with plans to represent her school at state.
"It did take me aback a little bit when she said, 'I am going to compete on my own,'" Ott told Fox News Digital. "I said 'On your own?' And she said, 'Yeah.' So, I went home and thought about it. I thought, 'Well, why not? The fees were already paid for. We had our hotel rooms. Let's just go.'"
Ott said she has enjoyed watching Katrina "learn and grow so much" since she first joined the squad four years ago. 
Last year, Ott said, Katrina came to her and said she was ready to step into a leadership role on the team.
NEW JERSEY HIGH SCHOOL STUDENTS TO 'HIT SNOOZE' AS BOARD OF EDUCATION APPROVES LATER START TIME
"Katrina has always been very bubbly, very willing to help anybody and any person in any way," Ott said.
"I'm just proud of myself for being willing to step out there and do it."

— Katrina Kohel
"She's like, 'Can I help you? Can I do that? Let me help you with that. Let's do this.' She is quite the team player. She roots for others all the time," Ott said.
After Katrina said she was going to compete by herself, she and Ott got to work by revamping the squad's routine for one girl to execute. They also incorporated all the components of the "Game Day" category.
"We just had to take out all of our stunts and make it where the signs were able to be used [by] one person," Katrina said. "It really wasn't too difficult to change it, seeing as we already had a small squad."
MARYLAND COACH'S TODDLER GOES VIRAL AFTER HE SHARES BIG, EXCITING NEWS WITH HIGH SCHOOL BASKETBALL TEAM
As competition day approached, Katrina had a lot on her mind including her routine and the subdistrict basketball championship game she would be playing in the night right before the cheer competition.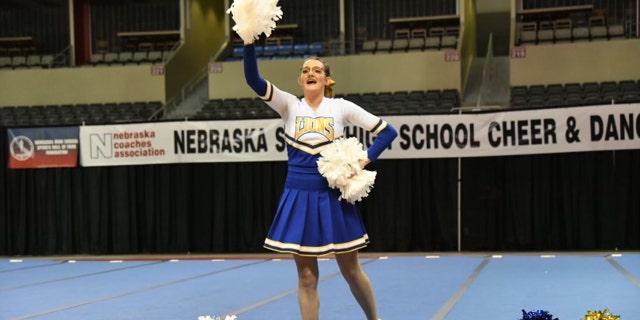 "Our school is in a very tiny rural community," Ott said of Morrill, which has a population of 930. 
"Whatever sport a student would like to participate in, they participate in. Katrina is in volleyball, basketball, track and cheer. That's just what you do in a small town," Ott added.
NEW YORK COMPANY HIRING HIGH SCHOOL GRADUATES FOR UP TO $47 AN HOUR
Katrina played in the basketball game which took place in Big Springs, Nebraska – two hours away from Morrill.
"I feel like this is a story for everyone. Never quit. Just stand up, just keep going. Whatever the adversities are, just keep going."

— April Ott
The next day, Katrina watched videos of her cheerleading performance nearly 20 times in order to prepare for competition, she said.
"This girl was not nervous," Ott said. "She just kept telling me, 'I got this coach.'"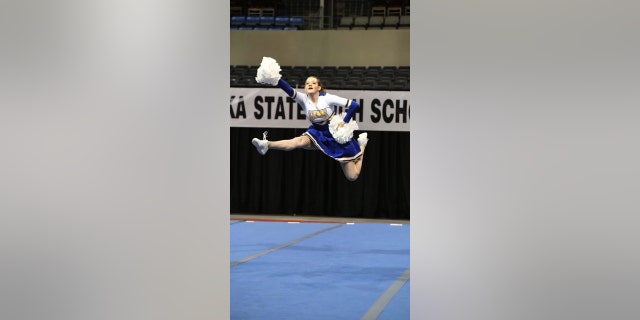 As the moment of the competition took place, little did Katrina or Ott know that members of the other 115 teams who were competing that day would rally around the Morrill Lions and their lone cheerleader.
"I walked out first because first they announce the name of the team," Ott said.
"I waved and the whole arena applauded me and waved back and I was like, 'Whoa. They know us. This is crazy,'" Ott recalled. "We have our cheer friends from other teams, so you're always going have somebody rooting for you. But this was a different level."
HIGH SCHOOL LUNCH PHOTO SHARED BY NY DAD HAS PARENTS CONCERNED
Katrina then took her place on the gym floor.
"It was a little bit of nervousness, a lot of excitement, and just a lot of different emotions," Katrina said. "The arena was so loud. It was loud from the get-go."
"You're going be challenged every day of your life. So just don't back down. You're stronger than you think you are."

— Katrina Kohel
Ott said that Katrina was "so pumped up and full of energy" during her performance.
"The crowd was just going wild behind us," Ott said. "It was an amazing experience. Just to hear the booming callbacks from the crowd was spectacular."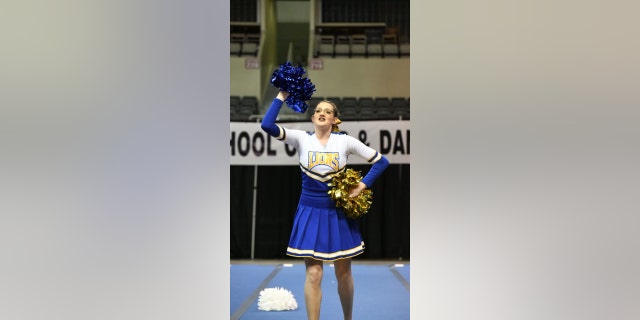 Katrina said that after the adrenaline rush, she realized what she had just accomplished.
"A lot of people have told me — and just like a lot of the comments that I've read — 'I don't think I would've been able to do that," Katrina said. "I wouldn't have had that confidence and all that.' I'm just proud of myself for being willing to step out there and do it."
Ott said that Katrina has inspired her and many other people.
"Katrina stood up for herself," Ott said. "I feel like this is a story for everyone. Never quit. Just stand up, just keep going. Whatever the adversities are, just keep going."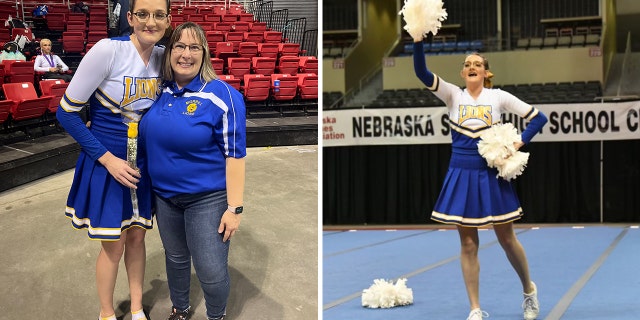 As for her advice to others reading her story, Katrina said to "never back down."
"You're stronger than you think you are," she said.