The man convicted of gunning down Grammy-nominated hip-hop artist Nipsey Hussle has been sentenced to 60 years to life in prison.
On Wednesday, after hearing testimony about the immense loss of the hip-hop star and neighborhood leader, Superior Court Judge H. Clay Jacke II handed down the sentence to Eric R. Holder Jr., who was previously found guilty for the 2019 first-degree murder of the 33-year-old Hussle.
It was learned during the court proceedings that Holder suffered a lifetime of mental illness and abuse.
"I am very mindful of what was presented as to Mr. Holder's mental health," Jacke said. "I am also mindful of the devastation caused to the victims and their families. I believe this sentence balances the two."
RAPPER NIPSEY HUSSLE'S LAST MOMENTS DETAILED AS MURDER TRIAL OPENS
Holder Jr. fatally shot Hussle, whose legal name is Ermias Asghedom, outside the clothing store Hussle founded, the Marathon, in a South Los Angeles neighborhood in 2019. 
A jury found him guilty in July 2021.
The sentence comes after a monthlong trial, where jurors also convicted Holder of two counts of attempted voluntary manslaughter and two counts of assault with a firearm for the gunfire that hit two other men at the scene. 
The other two victims survived their injuries.
Jacke sentenced Holder to 25 years to life for the murder and 25 more for a firearm sentencing enhancement.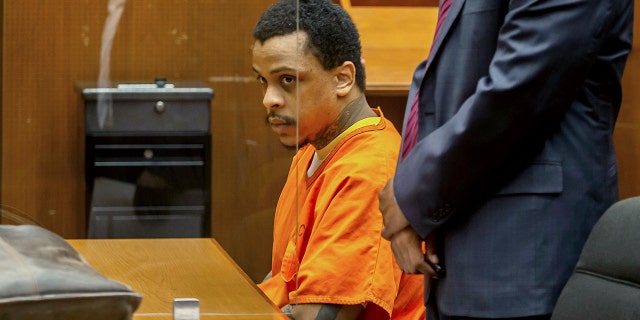 NIPSEY HUSSLE, GRAMMY-NOMINATED RAPPER, SHOT DEAD IN LOS ANGELES
He also sentenced Holder an additional 10 years for the assault with firearm convictions.
The judge gave Holder credit for the nearly four years he has already served.
Holder, who was dressed in orange jail attire, stared blankly throughout the proceedings and did not react when the sentence was announced. He only spoke to confirm with the judge that he understood the circumstances.
Before the sentence was handed down, prosecutors said Holder and Hussle had a brief conversation after they ran into each other on a Sunday afternoon outside the clothing store.  
Holder left and returned about 10 minutes later and shot Hussle at least 10 times, they said.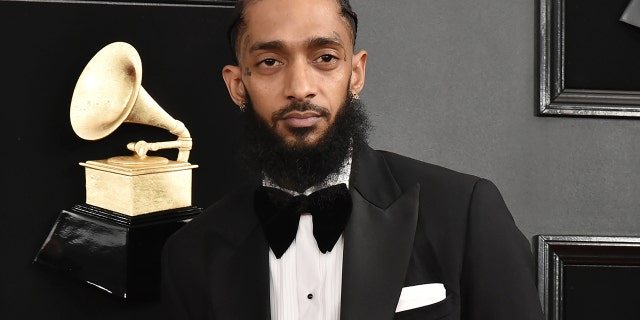 Herman "Cowboy" Douglas, a close friend of Hussle who was with him the day he was killed and testified during the trial, told the judge that both he and the South Los Angeles community where Hussle was a business leader were deeply impacted by the tremendous loss.
"Nipsey was my friend, he was like a son, he was like a dad," said Douglas. "Our community right now, we lost everything, everything we worked for. One man's mistake, one man's action, messed up a whole community."
Douglas said Hussle's store and surrounding businesses that he owned and supported have been closed down following his death.
ANOTHER CALIFORNIA SHOOTING LEAVES 3 DEAD, 4 INJURED IN RITZY LA NEIGHBORHOOD
Hussle's friend also told the judge he wanted to know the motivation behind the killing: "I don't care what you give this guy. It ain't about the time. I just want to know why. The world wants to know why. Why someone would do that?"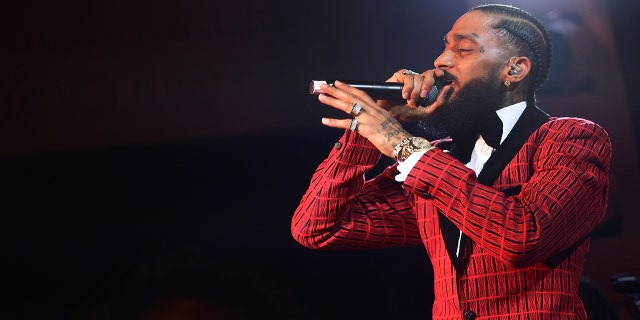 Public defender Aaron Jansen asked for a lesser sentence of 25 years to life that would allow some chance at release and rehabilitation, detailing his client suffered a childhood of physical abuse and poverty.
As he reached adulthood, Jansen said Holder suffered "a terrible descent into mental illness" that led to "years of torment and struggle" that included agonizing auditory hallucinations.
He also said life behind bars is "going to be brutal [and] is going to be short. He's already received numerous death threats."
Jansen also read a letter from Holder's father, Eric Holder Sr. apologizing to Hussle's family and to the other victims.
"I know there are not enough words that would fill the void, the pain, the deep sorrow that they feel," the letter read. "I question myself every day asking if I as a father did everything to help Eric Jr. stabilize his mental health."
Hussle and Holder had known each other for years growing up in South LA, as both were aspiring rappers. Holder never achieved the same success as Hussle, who would become a local hero and a national celebrity.
The evidence against Holder was overwhelming — from eyewitnesses to surveillance cameras from local businesses that captured his arrival, the shooting and his departure — that Jansen admitted during the trial that Holder had shot Hussle and asked jurors to find him guilty of voluntary manslaughter.
After deliberating for just six hours, jurors found him guilty of first-degree murder.
The Associated Press contributed to this report