Young Muhammad Ali, then known as Cassius Clay, knocked out opponent Sonny Liston for his first world title in boxing on this day in history, Feb. 25, 1964.
Twenty-two-year-old Clay achieved the unthinkable by dethroning Liston, who was then the world heavyweight boxing champion, according to History.com.
Ali beat the steep odds by winning the fight in a seventh-round technical knockout.
ON THIS DAY IN HISTORY, FEB. 24, 1914, JOSHUA L. CHAMBERLAIN DIES, COLLEGE PROFESSOR TURNED CIVIL WAR HERO
The fight brought 8,300 fans to the Convention Hall in Miami Beach, Florida, to watch the matchup between Liston and Clay, whose nickname back then was the "Louisville Lip."
Liston was an eight-to-one favorite after building a reputation for pummeling other champs like Floyd Patterson, History.com reports.
Ahead of the historic match, Clay predicted he'd knock out Liston in the eighth round and would "float like a butterfly, sting like a bee."
ON THIS DAY IN HISTORY, FEB. 7, 1964, THE BEATLES ARRIVE IN US FOR FIRST TIME, INSPIRE NATIONWIDE MANIA
But it turned out that Clay needed less time to take down Liston, who complained of a shoulder injury suffered in the first round.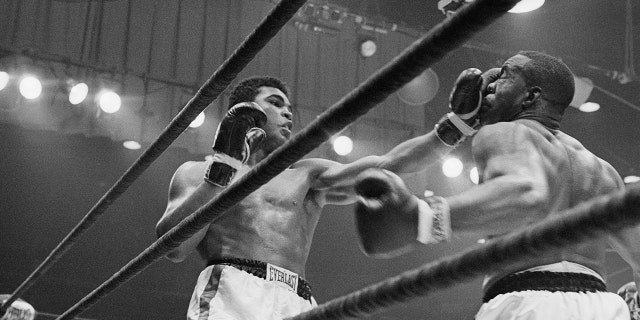 This reportedly caused Liston to throw a few swings unsuccessfully as Clay delivered "quick and punishing jabs" to Liston's head, History.com noted.
ON THIS DAY IN HISTORY, FEB. 22, 1980, US OLYMPIC MEN'S HOCKEY TEAM SHOCKS SOVIETS IN 'MIRACLE ON ICE'
Clay celebrated his world title win at a private after-party in Miami.
It featured such attendees as civil rights leader Malcolm X — a friend of Clay's.
Began boxing at age 12
Clay, born in Louisville, Kentucky, in 1942, first began boxing at age 12, according to History.com.
By the age of 18, Clay had clinched more than 100 wins in amateur competitions.
Clay won the International Golden Gloves heavyweight title in 1959 and a gold medal in the light heavyweight category at the 1960 Rome Olympic Games.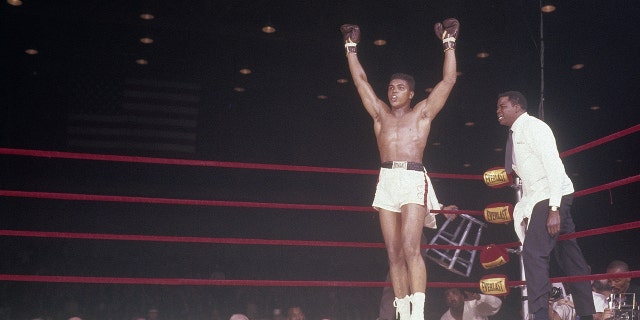 After the Olympics, Clay went undefeated in his first 19 bouts as a boxing pro, leading him to the famous matchup with Liston.
Two days after the fight, Clay announced he'd be joining the Nation of Islam and spoke on the personal importance of the Muslim religion.
That same year, Clay rejected the name given to his family by slave owners — and took the Muslim name of Muhammad Ali.
The three-time heavyweight champion boxer whose electrifying prowess in the ring and controversial outspokenness outside of it made him one of the world's most recognizable personalities of the 20th century lived until the age of 74.
He passed away in 2016 after a battle with a respiratory illness at a Phoenix hospital.