Calligraphers around the world have discovered a booming business in redesigning something that is typically thought to be extremely personal: a signature. 
With cursive now considered a "dying art" and something increasingly not being taught in schools, as Fox News Digital has reported, multiple services have sprung up to help self-conscious people add some flourish to their "John Hancock."
Priscilla Molina of Los Angeles, owner of the company Planet of Names, does at least 300 signatures a month for clients, some of whom are celebrities, she told the Associated Press.
CURSIVE WRITING IN AMERICAN SCHOOLS: HERE'S WHERE THIS 'DYING ART' IS STILL TAUGHT AND WHY IT MATTERS
Her packages, which range in price from $10 to $55, include such options as three different signature options, a redesign of initials or monogram, and drafts of the new signature design.  
Her clients are "not happy with their signatures," feeling as if "they don't relate to who they are" or do not send the desired message, she told the AP.
Her website offers a variety of stylistic options for customers, including "elegant, subtle, dramatic, sharp, classic, artistic, condensed, curvy, legible" and "illegible." 
Another signature creator believes an updated signature is "a way for people to reinvent themselves." 
"The way you present yourself on the outside can affect how you see yourself on the inside," Sonia Palamand, a calligrapher based in St. Louis, told the AP.
NEW JERSEY HIGH SCHOOL STUDENTS TO HIT 'SNOOZE' AS BOARD OF EDUCATION APPROVES LATER START TIME
Palamand's business is run via TikTok. She charges $35 for three signature options. 
"I think with signatures, it's adding some intentionality," she said. "It's also an artistic pursuit." 
"I always felt that my signature was the same from high school and without any style, and it was easy to copy."
While modern computer programs such as Apple's Preview and Adobe Acrobat Sign make it easy to e-sign a document with a preloaded signature, those who purchase new signature styles need to adjust their way of writing. 
At least one signature design company, Signature Pro, sells a template to teach purchasers how to write their names, the AP noted.
Molina's priciest package includes "additional tips on how to replicate your signature" in addition to 24-hour support.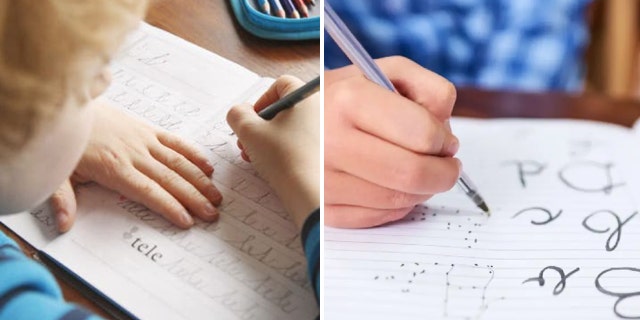 VipArtni, an online calligraphy studio, has 30 different font options on its website. 
In addition to 10 signature options, the Dubai-based VipArtni's packages include stencils and video instructions on ways to master the new signature. 
VipArtni's website says it takes most people about three days to learn their new signatures, the AP reported.
Another man said he purchased a new signature because he felt his original was childlike and perhaps too easy to replicate. 
TEXAS TO REQUIRE ELEMENTARY SCHOOL STUDENTS TO LEARN HOW TO WRITE IN CURSIVE AS PART OF NEW STATEWIDE CURRICULUM
"I always felt that my signature was the same from high school and without any style, and it was easy to copy," Juan Herrera, a Miami-based cargo pilot, told the AP.
Herrera paid VipArtni $99 for 10 signature options. He also received practice sheets so he could learn his new signature.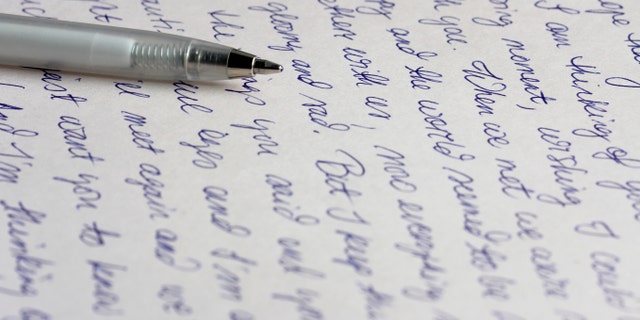 One of the options felt right — so Herrera said he uses it "every day," including on legal documents. 
The rise in signature creation services comes as cursive writing begins to make a comeback in American schools. 
In April 2019, the state of Texas decreed that all second-graders in that state's schools should be instructed in cursive letters, and that third-graders should know how to write words in cursive, Fox News reported.
KIDS BENEFIT FROM 'DITCHING THEIR DEVICES' AT HOME, URGES PARENTING EXPERT
And just last month, New Hampshire lawmakers considered a bill that would mandate instruction in cursive writing. That bill is currently pending, notes the New Hampshire state website.
"Cursive instruction has been declining for years, long before 2010."
Bruce Hanson, an education wellness expert and a test prep instructor at the University of California, Los Angeles, told Fox News Digital in October 2022 that cursive writing has fallen out of favor for a variety of reasons, though it is hard to date precisely when.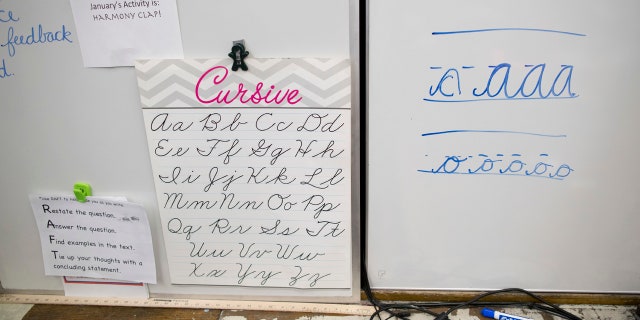 "Cursive instruction has been declining for years, long before 2010," he said.
Common Core curriculum standards, introduced in 2010 by the U.S. Department of Education, do not mention "handwriting" as an academic standard. 
Many states adopted these standards, said Hanson. 
Another expert laid blame on today's changing workforce and technology. 
"With the shift in the workplace to the use of typewriters and then word processors, the necessity of a workforce with excellent penmanship skills lessened immensely," Suzanne McLeod, coordinator of educational leadership at Binghamton University of the State University of New York, told Fox News Digital in October 2022. 
McLeod added that the U.S. education system shifted its focus to "high academic achievement" without lengthening the school days.
"The many hours of time spent focusing on penmanship drills and practice gave way to more time on mathematics, science, literacy and the introduction of keyboarding skills," she said.
The Associated Press contributed to this report.