Kirk Cameron, the actor and writer, may have earned the wrath of many of those on the left for organizing and hosting faith-focused, family-friendly and patriotic events at various public libraries in America over the past few weeks and months — a direct response to the many "drag queen story hour" events that have been held in recent years across the nation.
But at least one local official is praising the public library event that Cameron just held in Hendersonville, Tennessee, this past weekend.
"I enjoyed the Kirk Cameron event tremendously on Saturday," Mayor Jamie Clary of Hendersonville, Tennessee, told Fox News Digital on Monday in emailed comments. 
KIRK CAMERON RUNS INTO TROUBLE IN TENNESSEE AHEAD OF PATRIOTIC BOOK EVENT: 'NEGATIVE PUSHBACK'
"The parking lot was filled with cars from Texas, Florida, New York, Kentucky, Georgia and Alabama — [as well as from] several counties in Tennessee," the mayor said.
He added, "The program and message were exceptional."
Mayor Clary also said, "I appreciate the very positive attention that this event brought to Hendersonville. Thank you to the people who made this event happen: Kirk Cameron, Riley Gaines, John Isbell, the county library board, county commissioners, the library staff and the police officers."  
The mayor was responding to Fox News Digital's request for comment about the planned event, in which pushback from top library officials was reported.
Women's sports advocate Riley Gaines was present and read to the families and children from an illustrated children's book. 
"Families are crying out for a return to the faith-based virtues and American values that lead to our blessing and protection." — Kirk Cameron
Book publisher Brave Books said it ran into difficulty and "pushback" in its efforts to confirm the event at the local library in the week leading up to the book reading event, which also included the reciting of the Pledge of Allegiance and the singing of the national anthem.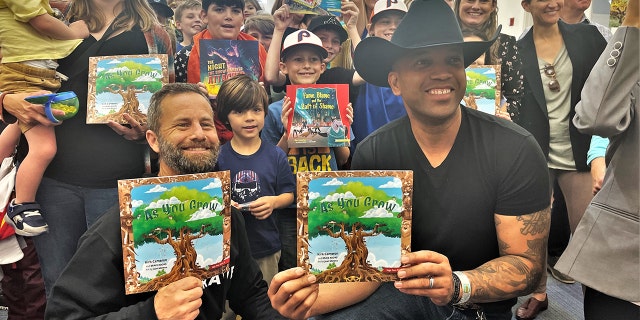 The publisher said top library officials indicated they did not want to host "a movement" and that they feared the library would be unable to accommodate the large crowds that were expected.
The Brave Books spokesperson told Fox News Digital, "A head official realized this event was going to be much more than a typical story hour. Noticing guests like Missy Robertson [of 'Duck Dynasty' fame] and [women's sports advocate] Riley Gaines" — both of whom committed to joining Cameron at the Saturday event in Hendersonville — "the official at the library reached out to us informing us that the story hour would not be happening on the 25th."
Added Brave Books, "The official said he did not want a movement coming to his library."
The event ultimately went on as planned.
And though there was "negative pushback," Kirk Cameron himself said he was happy with the opportunity to address hundreds of families that day with messages of faith, family and country — and that this is all part of his effort to "take back the hearts and minds of America's children."
KIRK CAMERON, RESPONDING 'TO THE CRIES OF PARENTS' WHO FEEL 'BULLIED,' IS HEADED TO MORE PUBLIC LIBARIES 
He told Fox News Digital, "Many public institutions have been infiltrated with individuals who intentionally silence wholesome movements like ours — while families are crying out for a return to the faith-based virtue and American values that lead to our blessing and protection."  
"We provide exceptional services to our residents, primarily professionals with families."
Mayor Clary also said to Fox News Digital on Monday, "Hendersonville was named by Money magazine as the 16th best U.S. city in 2021 and 2022."
He said, "We have a marker honoring our Gold Star Families and are the home of 'Huckabee,' the weekly cable talk-show hosted by Mike Huckabee," the former Arkansas governor.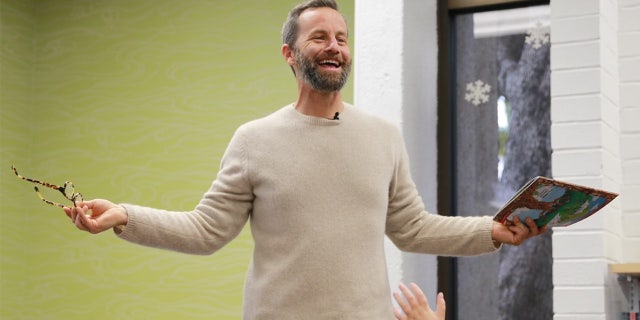 In addition, the mayor said, "We have a very low tax rate in a state with no state income tax. But we provide exceptional services to our residents, primarily professionals with families."
Cameron's book tour to public libraries is continuing in major cities across America.
He'll next appear in Houston, Texas, on March 4, Fox News Digital is told.
He is also scheduled to hold events in public libraries in Washington, D.C.; Scottsdale, Arizona; Denver, Colorado; Seattle, Washington; and other cities in the coming weeks and months, according to his publisher.
A number of public libraries previously either ignored or outright rejected Cameron's requests to host story-hour book events, according to Cameron and his publisher. 
His illustrated children's book is "As You Grow," which teaches biblical wisdom and positive values to kids.