A severe weather outbreak across several southern states Friday evening and Saturday morning produced at least one deadly tornado in Mississippi.
The Mississippi Emergency Management Agency tweeted early Saturday that at least 23 people were confirmed to be dead and dozens more were injured after the storm tore across the state Friday evening, damaging buildings and knocking out power for tens of thousands of residents. 
"We can confirm 23 dead, dozens injured, four missing due to last night's tornadoes," it said. "We have numerous local and state search and rescue teams that continue to work this morning. A number of assets are on the ground to assist those that have been impacted."
Those numbers are expected to rise.
"At least twenty three Mississippians were killed by last night's violent tornados. We know that many more are injured. Search and rescue teams are still active," Mississippi Gov. Tate Reeves tweeted Saturday. "The loss will be felt in these towns forever. Please pray for God's hand to be over all who lost family and friends."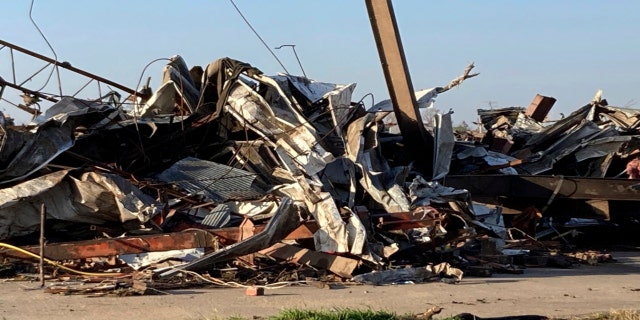 2 DEAD IN MISSOURI FLOOD, TORNADO THREATS ACTIVE IN SOUTH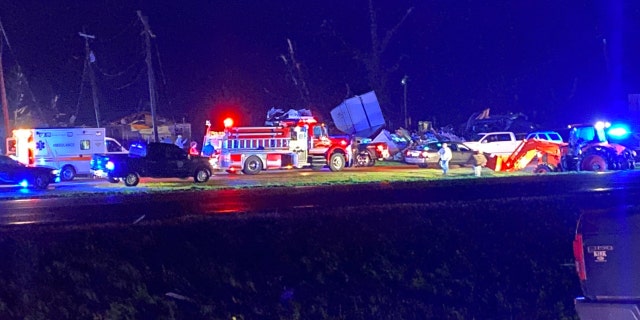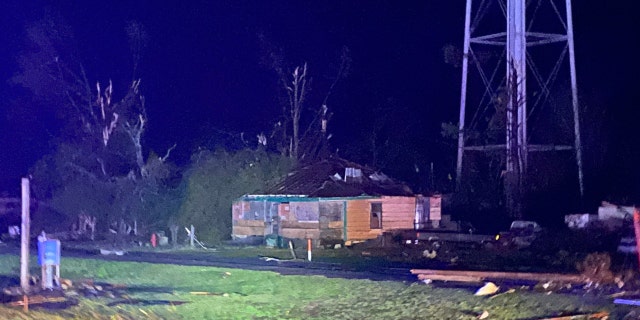 The governor said on Twitter Friday night that officials were sending more ambulances and emergency assets to those affected.
Authorities looked for a woman who was missing following flash flooding after a small river washed a car off the road. 
Amory Mayor Cory Glenn told "Fox & Friends Weekend" early Saturday that everyone there had been accounted for "thus far," but noted the extent of the devastation in his community. 
"A devastating storm, but we're resilient people and we'll overcome," he said. 
TORNADO ON GROUND IN MISSISSIPPI:
The severe line of storms prompted a tornado emergency to be issued in a few towns, which is the most dire of tornado-related alerts. By definition, it warns that a "large and violent" tornado likely to cause significant widespread damage and numerous fatalities is on the ground.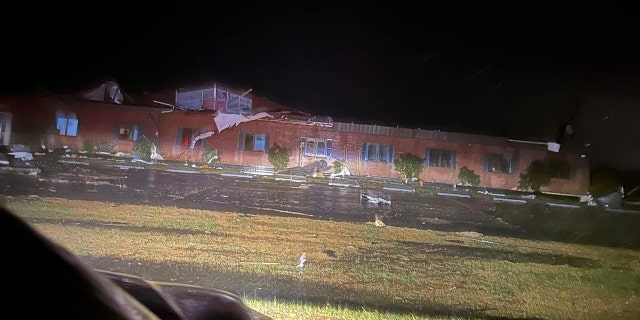 Many areas across Mississippi experienced widespread damage, including the northeastern town of Amory, which is not too far from the Alabama state line. 
Resident Holly Barnes shared a series of photos on Facebook with the caption, "Amory got hit, but we got out. Trying to get home if we still have one."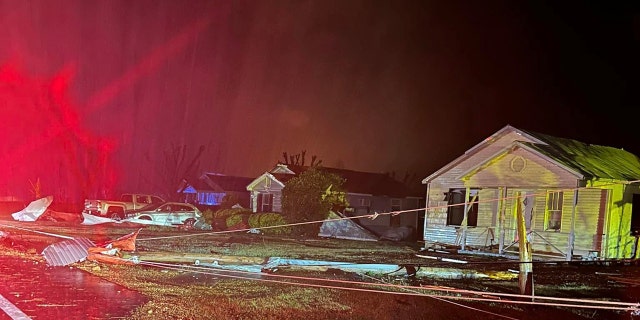 First responder agencies in the hardest hit towns posted on social media asking drivers to stay away from the ravaged areas. 
Amory's police and fire departments shared the same statement shortly after the tornado passed through:
"Please stay home and do not attempt to drive through Amory. Emergency crews can not do their jobs to help get power back on and assess damage and perform rescue if they cannot access areas. Please be safe and stay in a secure location instead of driving through Amory!"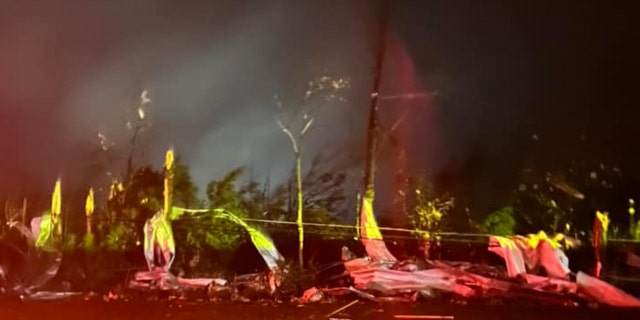 CLICK HERE FOR THE LATEST FROM FOX WEATHER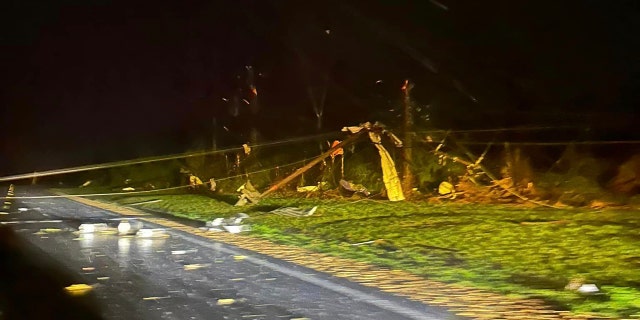 The first major tornado started in the town of Rolling Fork,  FOX Weather reported, and continued 30 miles northeast through Silver City – first responder agencies report severe damage in both areas. Radar analysis indicated it was on the ground for about 80 miles and lifted debris at least 20,000 feet in the air during its destructive path.
Fred Miller, the former mayor of Rolling Fork, told FOX Weather much of the town has been destroyed.
"The west part of Rolling Fork is a residential area, and just a number of houses over there have been completely destroyed," Miller said. "Highway 61, where most of our businesses are, all of the businesses on 61 have been completely destroyed. People are trapped in a couple of the eateries, and people are trying to get them out now."
RARE TORNADO RIPS THROUGH LOS ANGELES COUNTY, INJURING 1 AND TEARING OFF ROOF
Speaking on Fox News Channel, Mayor Eldridge Walker told Neil Cavuto that his community had been "devastated."
"We've lost lives. We have folks who are injured and I have friends that I've lost and families that are displaced," he explained, "and, right now, we are working real hard to make sure that those families that are displaced and the children – we're taking care of them and [getting] them what they need at this point." 
Walker said that the storm came into the area rapidly, leaving flat ground where buildings used to stand. 
"It was hard to prepare for it. It just happened so fast," he added.
Speaking later on the show, the United Cajun Navy president Todd Terrell said the organization had six dogs that were assisting with search and rescue efforts. 
Brett Adair, FOX Weather's field meteorologist who was chasing the storm, witnessed the twister enter Silver City.
"We had the drone up in the air and saw this massive tornado coming in, probably 5 or 6 miles away, and then just watched numerous explosions as it came across the highway here in Silver City."
As of 7:30 a.m. ET, nearly 15,752 customers were without power across Mississippi, according to PowerOutage.us. The outage tracker also showed 21,191 were impacted in Alabama and over 63,550 in Tennessee.
The Associated Press contributed to this report.