EXCLUSIVE: A pair of British tourists met Paul Murdaugh and then-girlfriend Morgan Doughty on vacation in the Bahamas in 2017, recorded the South Carolina scion on video and maintained a long-distance friendship for years before they learned what happened to him.
The duo, who have a 200,000-strong following on their TikTok page, @thenakedbuilders, met Murdaugh and Doughty while vacationing to Nassau and became long-distance friends.
They shared video earlier this week of the boozy encounter – with an under-21 Murdaugh standing behind the bar, Doughty drinking at his side and the hit bar anthem "Shots" blaring in the background.
Murdaugh's father Alex shot him to death alongside his mother, Maggie, at a family property on June 7, 2021 – and the Brits had no idea until they saw their friend's face pop up on TV.
ALEX MURDAUGH SUICIDE-FOR-HIRE HITMAN CURTIS 'EDDIE SMITH COULD BE KEY PLAYER IN NEXT TRIAL
The UK travelers, Adam Pink and Max Burton, say they only learned of their American friend's fatal demise, the deadly boat crash and other Murdaugh mysteries when a Netflix docuseries dropped last month.
EXCLUSIVE: Paul Murdaugh's boozy under-21 Bahamas vacation unveiled in 2017 video (Video 1 of 4)
While Pink had been one of the last people to speak with Murdaugh – via text just weeks before the murder, he said he had no idea about the February 2019 boat crash that killed Mallory Beach, and injured several others, including their Bahamas pal Doughty.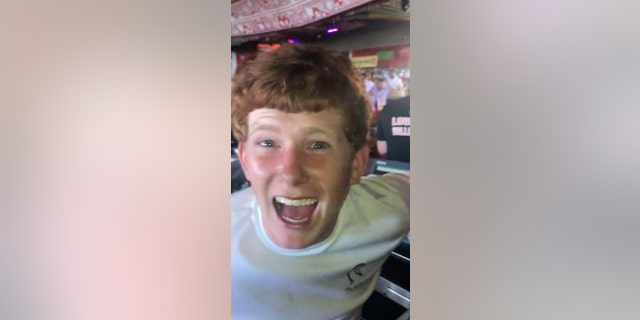 At the time of his death, Murdaugh was awaiting trial on felony drunken driving charges for the wreck.
MURDAUGH DOUBLE MURDERS: SOUTH CAROLINA INVESTIGATORS RELEASE HARROWING 911 CALLS
The story gave Pink and Burton context, years after Murdaugh asked them to take down the Bahamas video, which Burton said popped up on his phone and he decided to post it for a Throwback Thursday in August 2019.
WATCH: Paul Murdaugh's UK pals recount learning of his brutal death on TV (Video 2 of 4)
"That was when I tagged him and Morgan, and then I received that message from him," he said. "Obviously, we didn't know anything had happened or anything like that."
Murdaugh reached out via Instagram to ask Burton to take the video down, writing, "Me and that girl are no longer dating and are not supposed to have any contact."
You feel so sorry for Mallory's parents and her and Morgan, everything that happened – and then you've got a real sad feeling of Paul dying, being shot, supposedly, by his father…

— Adam Pink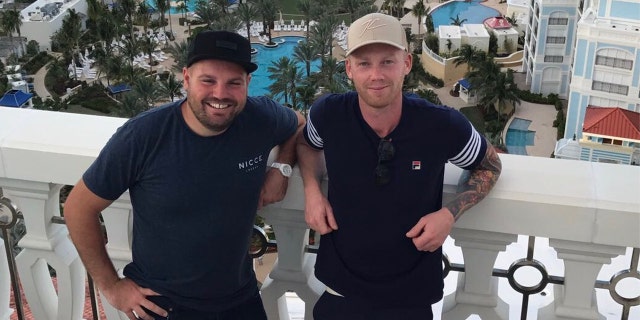 The British pals didn't know about the crash at the time, they said, and they didn't push the issue either, assuming Murdaugh was just going through a breakup and didn't want to talk about it. 
Doughty did not immediately respond to a request for comment from Fox News Digital.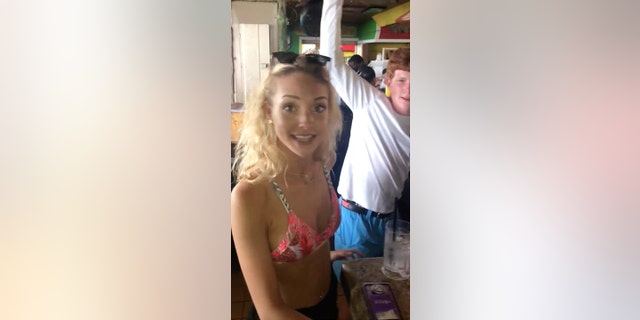 MURDAUGH BOAT CRASH VICTIM MALLORY BEACH'S FAMILY SEEKS 'ACCOUNTABILITY' IN SUMMER TRIAL
Pink and Burton had gone to Nassau, Bahamas to visit a friend who was working on the Baha Mar resort, a towering luxury hotel visible at sea – from the opposite side of the island.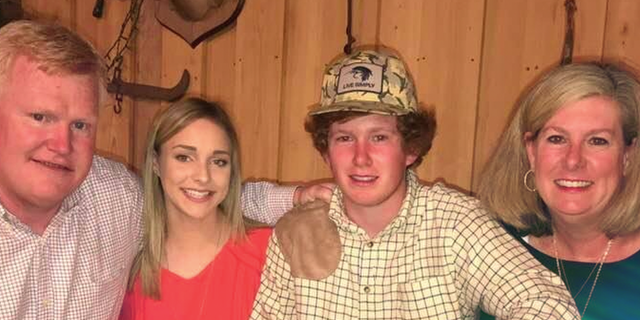 Their host had to work one day and dropped them off near the port to bar hop. They found a hot spot called Senor Frogs, went inside, and it began to fill up. 
Murdaugh approached them first, and despite an age difference of more than a decade, they hit it off.  They added they never met Murdaugh's drunken alter ego, "Timmy," that night during the booze-fueled encounter.
WATCH: Missed clues on Throwback Thursday (Video 3 of 4)
"He just seemed like a confident young man that wanted to have fun and that come across in the conversations that we had, you know, throughout the years as well," Pink said.
At one point, without asking anyone for permission, he went behind the bar. That's when they took the video.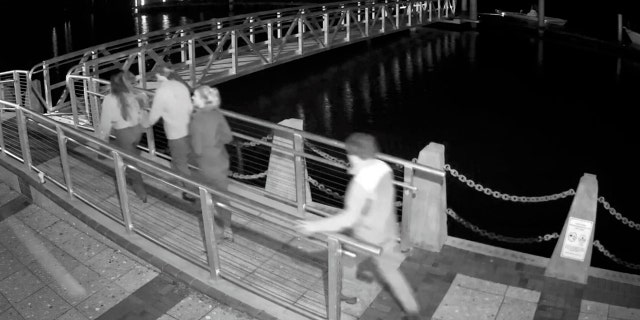 "We just sort of connected straight from the off and just kept in touch," Burton said, usually through Snapchat or Instagram.
INFAMOUS AMERICAN HOMES IN NOTORIOUS CRIME CASES
Fast-forward to February 2023 when Pink is in the kitchen, preparing for dinner with his girlfriend and scrolling through Netflix.  He was stunned to find a photo appear showing Murdaugh and Doughty.
WATCH: UK TikTokers describe meeting Paul Murdaugh in Bahamas years before downfall of legal dynasty (Video 4 of 4)
"It was in the UK top 10, it was in the top 3, I see a picture of Paul and Morgan," Pink told Fox News Digital Thursday. "I literally couldn't believe my eyes."
He grabbed his phone, called Burton, and broke the news. They hung up, watched the docuseries, then called each other back and spent an hour unpacking what they had discovered.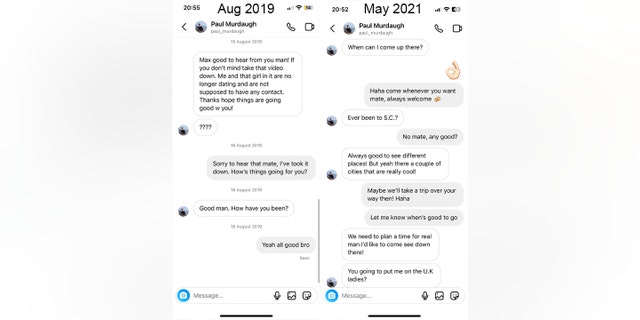 BUSTER MURDAUGH UNDER INTENSE SCRUTINY AFTER ALEX MURDAUGH'S GUILTY VERDICT
It was also the first time they learned of the deaths of Stephen Smith, who went to high school with Paul's older brother Buster as well and the Murdaugh family housekeeper Gloria Satterfield.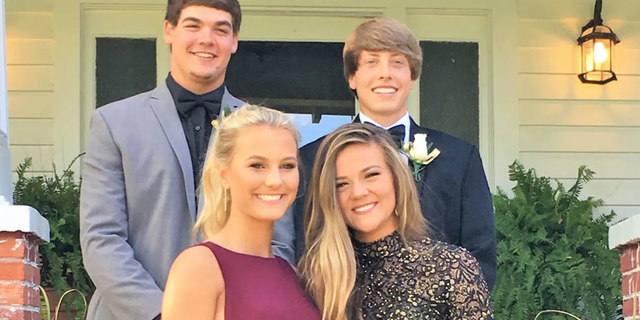 "Especially on a TV series documentary, looking at that, you could think Paul was a nasty guy from some of the things that was said and obviously that was done," Pink said Thursday. "But from our point of view, the Paul that we knew just seemed like a nice guy…"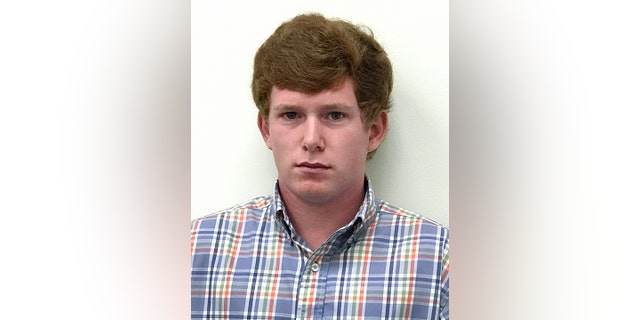 LISTEN: THE FOX TRUE CRIME PODCAST WITH EMILY COMPAGNO
"You have such a mixed bag of feelings because you feel so sorry for Mallory's parents and obviously her and Morgan, everything that happened – and then you've got a real sad feeling of Paul dying, being shot, supposedly, by his father, and his mum dying. It's just crazy."
The story left them "dumbfounded" and "utterly shocked," Pink said. It also cast Murdaugh in a new light – one they said they hadn't seen before.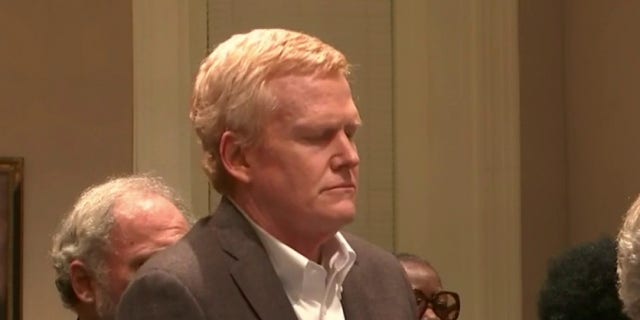 "He's made to look bad in the documentary," Burton said. "From when we met him, he didn't come across like that at all."
"He's done things to Morgan, absolutely horrible, and the crash is obviously devastating, and then he's passed away, which is really, really tragic in itself," Pink said. 
Alex Murdaugh, who was convicted last week of the murders of Paul and Maggie and sentenced to life in prison, has already filed an appeal.
Fox News' Haley Chi-Sing contributed to this report.