The United States Ambassador to the United Nations predicted Thursday's vote on a resolution on achieving peace in Ukraine will "go down in history."
"Colleagues, today we are gathered to discuss an important, historic resolution – one that will promote diplomacy, dialogue, and a lasting peace in Ukraine. The timing of this moment is, of course, intentional," said Ambassador Linda Thomas-Greenfield. "Colleagues, this vote will go down in history.
"On the one-year anniversary of this conflict, we will see where the nations of the world stand on the matter of peace in Ukraine," she added.
Russia invaded Ukraine on Feb. 24, 2022, and the yearlong war has involved countries from around the world collectively contributing hundreds of billions of dollars to provide weapons and equipment to Ukraine's military. Many of the funds have been provided for humanitarian reasons and to repair the country's infrastructure.
PRESIDENT BIDEN MAKES SURPRISE VISIT TO KYIV, UKRAINE, MEETS WITH PRESIDENT ZELENSKYY
According to Thomas-Greenfield, the U.S. stands united with President Volodymyr Zelenskyy in keeping Ukrainian territories out of the hands of Russia's rule.
"Earlier this week, President Biden visited Ukraine. And he made it clear where the United States stands. He stood shoulder-to-shoulder with President Zelenskyy to remind the world that, one year later, Kyiv still stands. Ukraine still stands. And America still stands with Ukraine."
Biden also announced during his surprise trip that the U.S. will be providing nearly $500 million in additional security assistance to Ukraine.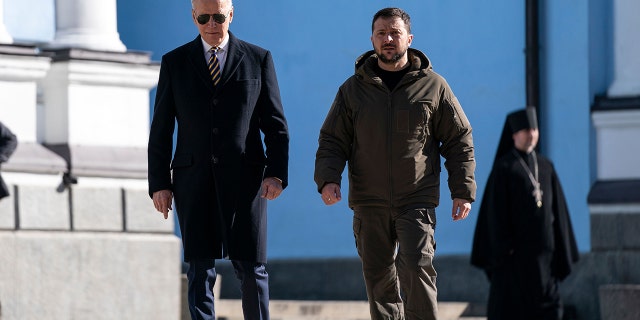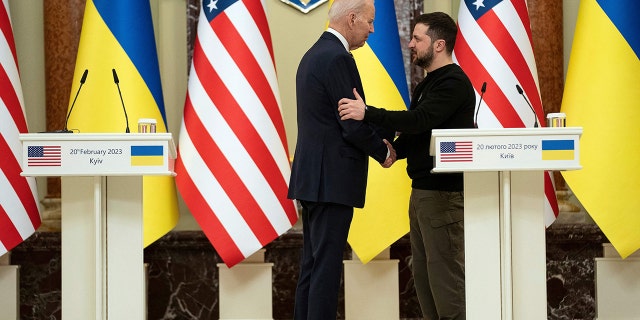 The president's visit commitment comes just days before the war reaches its one-year milestone, well longer than experts initially predicted the war would last.
"One year ago, Russia launched its illegal, unprovoked, full-scale invasion into Ukraine," she continued. "I remember that day clearly, as I know all of you do too, as well."
FOX NEWS POLL: HALF SAY US SHOULD SUPPORT UKRAINE AS LONG AS IT TAKES
Thomas-Greenfield said Russia lied to the international community in the days leading up to the invasion and claimed Russian President Vladimir Putin and the Kremlin continue to do so amid global calls for peace.
"That cold February night, one year ago today, I asked Russia to stop. To return to its borders. To send its troops, tanks, and planes back into their barracks and hangars. To send diplomats back to the negotiating table. But it was too late. At that exact moment I joined so many others in the Security Council and around the world in making a plea for peace. President Putin chose war. This was an illegal and unprovoked attack on Ukraine. But it was also an assault on the United Nations. It struck at the very heart of the UN Charter," the ambassador said.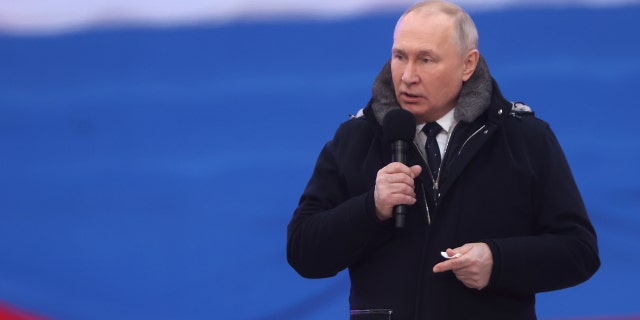 She added: "We all know what happened next, and what is still happening now. The bombing of kindergartens and hospitals. The slaughter of innocent civilians. The worst refugee crisis in Europe since World War II. An unprecedented hunger crisis around the world. Threats to nuclear and energy security. Families forcibly separated, Ukrainian children relocated to Russia, mass suffering. Crimes against humanity."
The ambassador visited Ukraine last year and said seeing the impacts of the war and the suffering and resolve of the Ukrainian people was an emphatic experience. She also said she learned "the most powerful lessons" as she met with refugees and victims, including a 10-year-old girl named Milena.
SIX COUNTRIES JOIN RUSSIA IN OPPOSING UN'S RESOLUTION FOR PEACE IN UKRAINE
"But it was in the faces of Ukrainian children that I found hope. I met a 10-year-old girl, Milena, who lived in a facility where displaced families were gathering to prepare for the cold winter. A facility that had once been hit by Russian missiles. And I asked Milena what she wanted to do when the war was over. And she smiled. She told me, simply, that she wanted to go back to school and see her best friend again. Her face beamed with hope. I will never forget her shining eyes," Thomas-Greenfield said.
She urged her colleagues to not grow war-weary but to reaffirm their commitment to seeing peace in the region and to promoting "diplomacy and dialogue."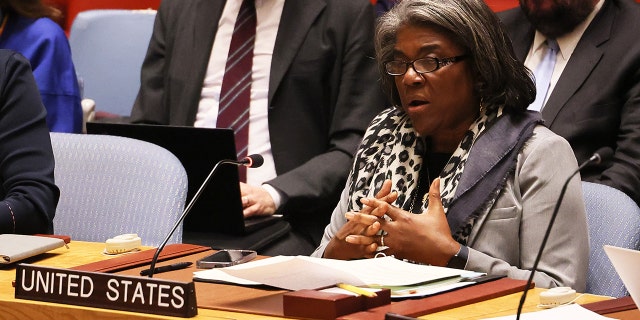 The day after her remarks, the U.N. overwhelmingly voted to demand Russia "immediately" and "unconditionally" withdraw its forces from Ukraine.
Thursday's resolution also called for a "just and lasting" peace.
While 141 countries voted in favor, 32 countries abstained from the vote and another seven voted against it. 
Belarus, North Korea, Syria, Eritrea, Mali and Nicaragua joined Russia in opposition.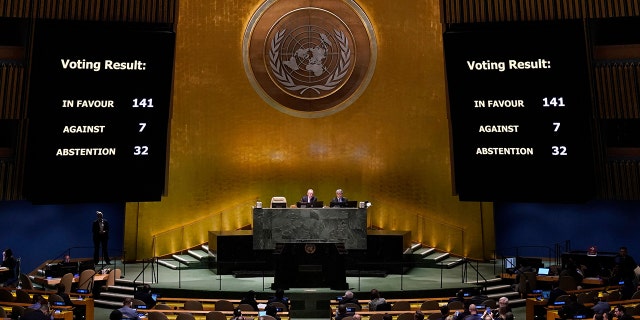 The resolution does not force Russia to leave Ukraine.
Ukrainian Foreign Minister Dmytro Kuleba called the vote a victory.
Fox News' Andrea Vacchiano contributed to this report.