The United States continues to lead the world in contributions to Ukraine with nearly $200 billion in promised or sent aid, as the U.S. ally continues its fight against Russia.
According to the Ukrainian government, the U.S. leads all countries with $196 billion in total military, financial and humanitarian aid to Ukraine between Jan. 24, 2022 through Nov. 20, 2022. Germany has sent the second-most funds, with $172 billion sent in that span.
In that same span, the rest of the world has contributed less than $75 billion of total aid, with most of that sum coming from the United Kingdom ($28.2 billion), Poland ($24.3 billion), and Estonia ($5.48 billion).
These figures do not include loans sent to Ukraine or additional contributions that were approved by their respective governments between Dec. 2022 and Feb. 2023.
MATT GAETZ RIPS 'BIPARTISAN COALITION' THAT FAVORS WAR IN UKRAINE
Ukraine President Volodymyr Zelenskyy has visited each of these top contributing countries, except Estonia.
The growing figures come as the Ukraine-Russia war nears its one-year mark. Russia first invaded on Feb. 24, 2022.
Some members of Congress are looking to put a stop to the superabundant spending by the U.S. government, including Rep. Matt Gaetz, who introduced a resolution to end military and financial aid to Ukraine.
"How much more for Ukraine? Is there any limit?" asked Gaetz, R-Fla., on the House floor. "Which billionth dollar really kicks in the door? Which redline we set will we not later cross?"
The proposal also urges Ukraine and Russia to seek a peace deal, requiring them to renew their negotiations.
The "Ukraine Fatigue Resolution" has at least 10 co-sponsors and calls for the U.S. to "end its military and financial aid to Ukraine and urges all combatants to reach a peace agreement."
The resolution notes the U.S. has been the top contributor to the Ukrainian war effort, providing financial, military, and humanitarian aid to the U.S. ally.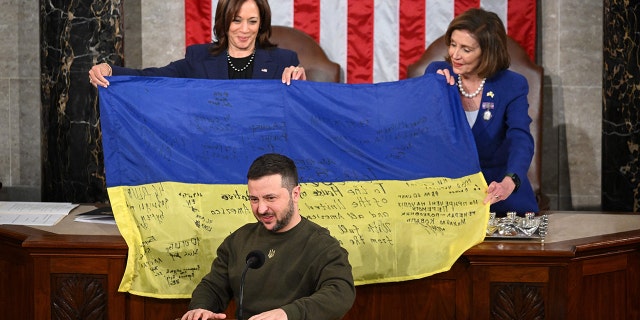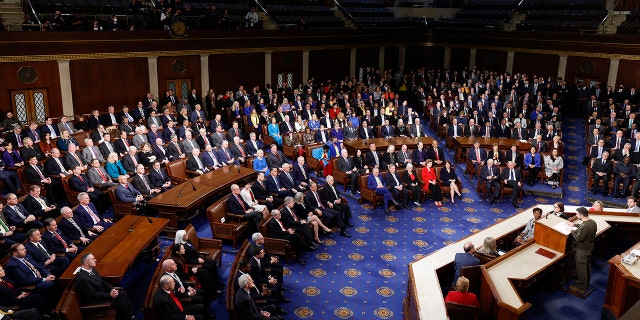 BIDEN SAYS PUTIN HAS 'ALREADY LOST UKRAINE'
In January, President Biden approved additional security assistance, including 31 Abrams M1 tanks to Ukraine. On top of that, reports suggest another $2 billion could be in the pipeline.
"This is about freedom, freedom for Ukraine, freedom everywhere," Biden said last month.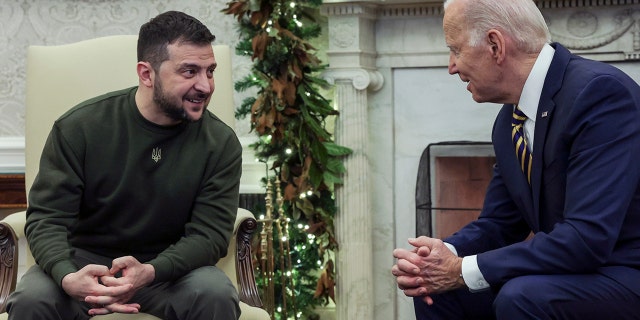 Gaetz's resolution claims the U.S. is inadvertently contributing to civilian casualties by providing weapons and potentially prolonging what he called an "everlasting conflict."
"America is in a state of managed decline, and it will exacerbate if we continue to hemorrhage taxpayer dollars toward a foreign war," said Gaetz, a member of the House Armed Services Committee. "We must suspend all foreign aid for the War in Ukraine and demand that all combatants in this conflict reach a peace agreement immediately."
Co-sponsors of the resolution include Reps. Andy Biggs, R-Ariz., Lauren Boebert, R-Colo., Paul Gosae, R-Ariz., Marjorie Taylor Greene, R-Ga., Anna Paulina Luna, R-Fla., Thomas Massie, R-Ky., Mary Miller, R-Ill., Barry Moore, R-Ala., Ralph Norman, R-S.C. and Matt Rosendale, R-Mont.
Fox News' Adam Shaw and The Associated Press contributed to this report.