Reigning Heisman Trophy winner Caleb Williams dazzled in USC's first game of the season against San Jose State.
Williams led the No. 6 Trojans to a 56-28 win behind four passing touchdowns and 278 passing yards. He was 18-of-25 on the game. Williams looked to be in championship form and a play in the second quarter underscored that.
With about 9:48 remaining in the first half, Williams lined up in the shotgun formation and fumbled the snap. He quickly pounced on the ball and launched a 76-yard touchdown pass to Tahj Washington.
"I feel good, (but) walking off that field, there's a bit of frustration," Williams said. "In the first half, it just felt like we weren't hitting on certain calibers that we're going to hit on soon."
In the third quarter, Williams had a 25-yard touchdown pass to Zachariah Branch. The pass put USC up three scores over San Jose State and the team never looked back from there.
Branch also had a 96-yard kickoff return for a touchdown about 5 minutes later.
"Thought he did a good job not trying to do too much, which guys in their first game sometimes will do," USC coach Lincoln Riley said. "The patience, especially on the return, was key. We talked about trust, and then going into this first game, he was a great example of that. He heavily impacted the game."
SAM HARTMAN FIRES 4 TOUCHDOWN PASSES AS NOTRE DAME CRUSHES NAVY IN DUBLIN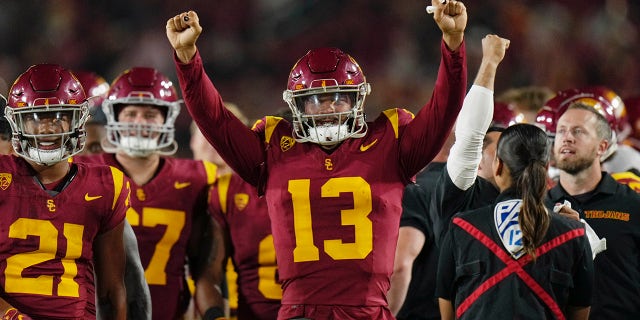 Branch had four catches for 58 yards. Washington had two catches for 85 yards. Twelve Trojans players had receptions.
Spartans quarterback Chevan Cordeiro was 21-of-38 with three touchdown passes in the game. Each of the three touchdowns went to Nick Nash – who finished with six catches for 89 yards.
"Honestly, there's disappointment in our hearts right now because we had an opportunity for that thing to be a fight, like a close one," San Jose State coach Brent Brennan said. "And I credit them. They made the plays. The kickoff coverage, we hit a flat kick in the middle of the field to the freshman, and he's something else. Good lord, he was fantastic. We all saw him in high school, and you don't get five stars by accident."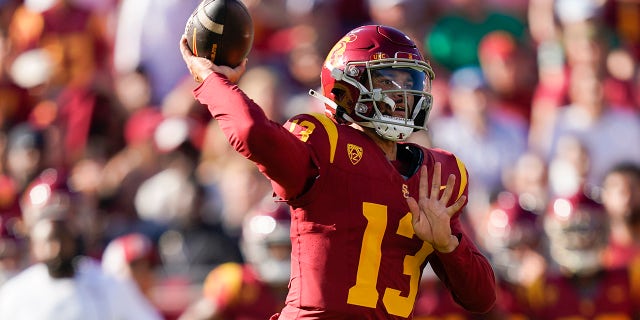 Williams' shot at a second consecutive Heisman Trophy is off to a good start.
Only Archie Griffin has won the award twice.
The Associated Press contributed to this report.