GOP presidential candidate Vivek Ramaswamy in an interview with Fox News clarified remarks he gave to The Atlantic that some critics say alluded to the possibility that federal agents were involved in the 9/11 terrorist attacks.
"I think it is legitimate to say how many police, how many federal agents, were on the planes that hit the Twin Towers. Maybe the answer is zero. It probably is zero for all I know, right? I have no reason to think it was anything other than zero," Ramaswamy told the outlet in released audio. "But if we're doing a comprehensive assessment of what happened on 9/11, we have a 9/11 commission, absolutely that should be an answer the public knows the answer to."
CNN's Kaitlan Collins pushed Ramaswamy about his remarks on Monday asking him if the quote was wrong. 
RAMASWAMY WAS ALREADY MILLIONAIRE WHEN HE ACCEPTED SOROS AWARD HE SAID HE NEEDED TO PAY FOR LAW SCHOOL
"I'm telling you the quote is wrong, actually," he responded. 
The Atlantic on Tuesday released an audio transcript of Ramaswamy saying verbatim what he was quoted as saying. 
The 38-year-old entrepreneur clarified his remarks on Tuesday, telling "The Story" that he didn't believe federal agents were involved in 9/11. 
"Per the clip that you just played, of course [that] not was my point. However, I have a very different view of January 6th. We know for sure there were federal agents," Ramaswamy explained. 
Anchor Martha MacCallum asked whether he was conflating Jan. 6 and 9/11 when he was talking about them. 
"No, I think the reporter asked about them in a combined manner. He said, 'Why should we ask that question if you're not asking it of 9/11?' I said, you know what? I always favor getting to the truth of what the government tells us. The deeper point, Martha, though, is this: We have a government that has systematically lied to the people of this country. I'm a millennial. I'm 38. I grew up into an era, whether it was the Clinton administration, whether it was the Bush administration or the Obama administration that has systematically lied and gotten us into foreign wars in Iraq and elsewhere on false pretenses," he said. 
"Even now, we have a government that lies about the origin of COVID-19, about the veracity of that Hunter Biden laptop, about government technology, censorship, increasingly about even how our money is being spent in Ukraine. And one of the things that I'm going to do as the next president of the United States is restore truth in government."
MacCallum asked Ramaswamy who he believes was responsible for the Sept. 11 attacks that killed nearly 3,000 people. 
RAMASWAMY CHANGES TUNE FROM PREVIOUS COMMENTS ON TRUMP AHEAD OF GOP DEBATE: 'NOT THE SAME DONALD TRUMP'
"Terrorists from al-Qaeda. But, this is a crucial truth that's been left out – aided by the Saudi government. And this is a stain on our national history," he said. "The fact that the FBI and the 9/11 Commission lied back in 2001 and 2002 saying there was no Saudi intelligence involvement. We now know declassified documents quietly from the government in 2021 that Omar al-Bayoumi, [a] supposed graduate student, was indeed a Saudi intelligence operative. And I think we can't just sweep these facts under the rug."
"Is this a main element of my campaign? No, it's not. But when I'm asked about it, am I going to hide and sweep under the rug the old truth? No, I'm not going to do that either. We have to stand for the truth. And if we don't learn from past government lies, we risk making the same mistakes."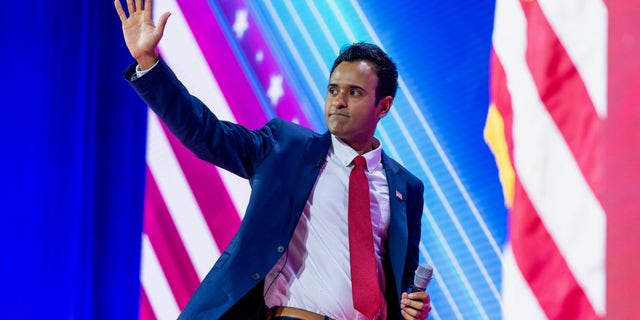 Tricia McLaughlin, a spokesperson for Ramaswamy, told CNN the campaign is "grateful" that The Atlantic released the audio. 
"The audio clearly demonstrates that Vivek was taken badly out of context and even this small snippet proves that. We continue to encourage the Atlantic to release more of the recording, rather than their carefully selected snippet so that full context and reality is exposed," she said.
For more Culture, Media, Education, Opinion, and channel coverage, visit foxnews.com/media