White House press secretary Karine Jean-Pierre on Friday pushed back on Democratic critics of President Biden's decision not to support Washington, D.C.'s revised criminal code, criticizing the legislation for reducing criminal penalties for violent crimes. 
But reporters grilled her on the president's apparent flip-flop, pointing to a policy statement released in February that said the administration "opposes" bipartisan legislation that would block D.C.'s revised criminal code from becoming law. 
"There was never a change of heart," Jean-Pierre insisted at the daily White House press briefing. 
Faced with tough questions, Jean-Pierre made the case that a Statement of Administration Policy (SAP) issued by the Executive Office of the President on Feb. 6, 2023, that specifically opposed the House resolution disapproving of D.C.'s revised criminal code was not a promise that Biden would veto the legislation.
'SAD DAY': AOC, DISAPPOINTED DEMOCRATS GO AFTER BIDEN FOR OPPOSING DC LAW REDUCING PENALTIES ON VIOLENT CRIME
"The way that it's laid out speaks to the president supporting D.C. statehood," Jean-Pierre told reporters. "We never laid out where we, where the president was going to go once that, once it came to his desk because we wanted to allow Congress to move forward in the way that they normally do."
Reporters at the press briefing seemed confused by the press secretary's explanation. The policy statement released by the White House states, "while we work towards making Washington, D.C. the 51st state of our Union, Congress should respect the District of Columbia's autonomy to govern its own local affairs." 
The plain language of the administration's policy suggested that Biden would oppose a Republican-led effort to overturn D.C.'s criminal code — which was passed by the D.C. Council in January, overriding a veto from Mayor Muriel Bowser. Opponents of the measure in Congress called it a soft-on-crime bill, pointing to reduced criminal penalties for homicides, armed robberies, and other violent offenses. 
BIDEN WON'T VETO BILL BLOCKING THE SOFTENING OF DC'S CRIMINAL CODE
However, Biden shocked pro-criminal justice reform Democrats on Thursday by suddenly announcing he would not veto the congressional resolution to block D.C.'s crime code if it reached his desk.
"I support D.C. Statehood and home-rule – but I don't support some of the changes D.C. Council put forward over the Mayor's objections – such as lowering penalties for carjackings," Biden tweeted Thursday. "If the Senate votes to overturn what D.C. Council did – I'll sign it."
The president's abrupt about face enraged Democrats, who viewed it as a betrayal of his stated commitment to support D.C. home rule. 
"This 'but' is like saying 'save the whales!' then eating one," the Council of DC tweeted Friday. 
BIDEN DC CRIMINAL CODE POSITION A 'GREAT DISAPPOINTMENT,' DELEGATE SAYS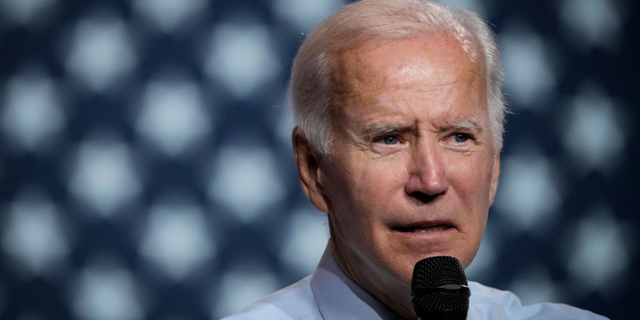 Despite the apparent contradiction, Jean-Pierre refused to concede that the president changed his position on the resolution. 
"We opposed it, but there was no veto threat," she said. "So, I want to be really clear about it. It stated our support for D.C. statehood, but it did not indicate what the president would do should the bill come to his desk. It did not say that." 
Asked why Biden won't use his power to veto the resolution if he supports D.C. home rule, Jean-Pierre emphasized that D.C. is not yet a state, "so he has to make a decision." 
"He believes in keeping the 700,000 residents in D.C. safe. And so he's taking that action because it's coming to him," she argued. "We didn't put this legislation together. This is not our legislation. This is legislation that is coming before the president of the United States because D.C. is not a state. It's just not. So he has to make a decision, so he's going to make a decision that will help the residents of D.C." 
Earlier, Jean-Pierre criticized the D.C. crime bill for reducing maximum penalties for violent crimes. And comparing the legislation to the policies Biden has put forward, she noted, "the way we see this bill, it doesn't actually reform policing practices."